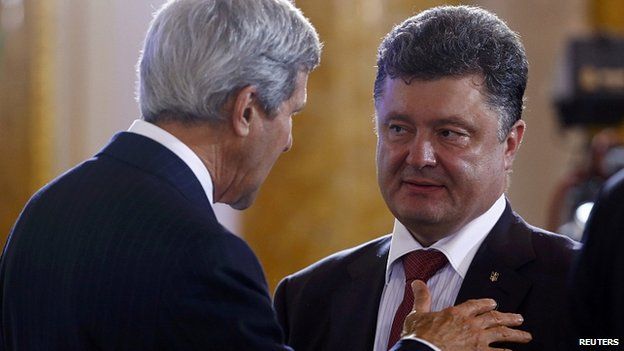 Petro Poroshenko, right, has already met US Secretary of State John Kerry in WarsawUS President Barack Obama is to discuss economic support for Ukraine when he meets President-elect Petro Poroshenko in Warsaw, bbc reports.
Mr Obama has said he will offer US support as Kiev tries to settle a gas bill with Russian supplier Gazprom or risk a cut in supply.
Ukraine's struggling economy has been in recession since the middle of 2012.
Mr Obama is in Poland for celebrations marking the 25th anniversary of the end of communism there.
But his visit has taken on extra significance following Russia's annexation of the Crimean peninsula in March. The move has left East-West relations at their lowest ebb since the Cold War.
Mr Obama is seeking to reassure former Soviet states that Washington will support them in the event of any Russian "provocation".
On Tuesday he pledged $1bn (£600m) to boost military deployments to Europe in response to Russian actions in Ukraine.
NATO has also promised to bolster its defence capabilities.
The BBC's Adam Easton in Warsaw says Mr Obama chose to come to Poland for its symbolic value.
In a speech in Warsaw on Wednesday, he is expected to say that 25 years ago it faced similar problems to those facing Kiev today, but overcame them.
The message is that with the West's support, Ukraine can too, our correspondent says.
Earlier, Mr Obama said he would offer Mr Poroshenko US support for the Ukrainian economy to help ensure it can get through the winter if Russian gas supplies are cut in a row over payment.
"I want to hear from him (Poroshenko) what he thinks would be most helpful," Mr Obama said.
"We're going to spend a lot of time on the economics of Ukraine."
He said Moscow could rebuild the trust it once enjoyed, but said that "further Russian provocation" would be met with further costs for Russia, including possible further sanctions.
Moscow has been accused of supporting armed separatists in eastern Ukraine, something it strongly denies.
"Russia has a responsibility to engage constructively with the Ukrainian government in Kiev, to prevent the flow of militants and weapons into eastern Ukraine," he said.
Mr Obama is on a three-country visit to Europe that takes him next to Belgium for a meeting of the G7 major industrial nations and then on to France for D-Day commemorations.
Mr Poroshenko is making his first official visit abroad since winning the 25 May election.
June 4 2014, 10:44