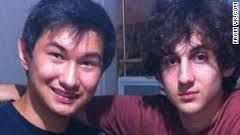 Dias Kadyrbaev and Dzhokhar TsarnaevSpeaking English with relative ease, despite a notable Russian accent, a former University of Massachusetts Dartmouth student from central Asia testified Monday that he was manipulated into giving incriminating statements to the FBI that led to his facing charges of obstructing justice in the Boston Marathon bombings, bostonglobe.com reports.
Dias Kadyrbayev, 20, a college friend of bombing suspect Dzhokhar Tsarnaev, has allegedly admitted that he, along with his roommate, took Tsarnaev's backpack containing fireworks from his dorm room on the night of April 18, 2013, and threw it in a dumpster behind their apartment in New Bedford. Tsarnaev was on the run at the time.
However, Kadyrbayev, a native of Kazakhstan, wants those statements, which led to the recovery of Tsarnaev's backpack in a landfill, suppressed by a federal judge prior to his September trial, on grounds that his poor English skills last year limited his understanding of his Miranda rights, among other things.
If he had understood, his attorney has argued, Kadyrbayev may have exercised his right to remain silent or seek a lawyer, instead of speaking freely on April 19 and 20, as he did with agents.
Under questioning by defense attorney Robert Stahl, Kadyrbayev said he asked at least twice during his interrogations if he needed a lawyer and was made to feel it was an unnecessary precaution by agents who encouraged a first-name buddy relationship with him. The hearing was held in federal court in Boston.
"Oh, you're not under arrest, you're just trying to help us out," Kadyrbayev quoted one of the agents as saying.
On Monday, Kadyrbayev's attorney also presented a linguistics expert, Aneta Pavlenko, who said her analysis of Kadyrbayev's e-mails and texts, among other writings, prior to April 19 suggests that he had only an "intermediate" level of English comprehension then and it was "highly unlikely" he understood his Miranda rights.
She pointed out that his English may be much better now, after spending a year in an American prison.
However, prosecutor Stephanie Siegmann portrayed Kadyrbayev on cross-examination as well-versed in English, particularly the spoken language, having studied extensively in his native country before studying abroad in England and the United States. She also noted that he was part of hours of legal hearings in the weeks after his arrest and never once asked for an interpreter, until Monday's hearing.
Siegmann also noted that on the night of April 18, while Tsarnaev was on the run, Kadyrbayev's computer showed frequent activity on CNN, Fox News, and CBS, suggesting he had no problem understanding English websites.
He was also admitted to the University of Massachusetts Dartmouth through a foreign-student program on the condition of an adequate proficiency in English.
The prosecutor also attempted to undermine the credibility of Kadyrbayev's testimony by noting that he twice paid students to pose as UMass Dartmouth professors and tell his mother that he was doing well in his studies, even though he was failing nearly all of his classes.
One student was paid $100, and when the prosecutor asked how much he paid the second student, Kadyrbayev answered, "I don't know . . . does it matter?"
According to prosecutors, Kadyrbayev and two friends — Azamat Tazhayakov, 20, who is also originally from Kazakhstan, and Robel Phillipos, 20, from Cambridge — went to Tsarnaev's dorm room at UMass Dartmouth on the night of April 18, just hours after photos of Tsarnaev and his older brother, Tamerlan, were broadcast by the FBI. The deadly Marathon bombings occurred on April 15, 2013.
The trio allegedly took Tsarnaev's backpack, containing fireworks and a laptop, and brought the items to a New Bedford apartment shared by the two Kazakhstan students. Kadyrbayev and Tazhayakov later discarded the backpack.
Though all three friends face charges related to interfering with the government's investigation of Tsarnaev — and will be tried separately in the months ahead — the pretrial hearing only involves Kadyrbayev because he is the only one who accepted the judge's condition for such a hearing. The condition was that he take the stand and submit to cross-examination, on the content of his written affadavit about improper actions by federal agents.
Tsarnaev and his older brother, Tamerlan, are accused of planting the pressure-cooker bombs that exploded near the Boston Marathon finish line, killing three people and wounding more than 260. The brothers also allegedly killed MIT police Officer Sean Collier on April 18.
Tamerlan Tsarnaev died in a violent confrontation with police that night, while the younger brother was a fugitive for hours on April 19 and was later captured hiding in a boat in the backyard of a Watertown home.
Dzhokhar Tsarnaev, 20, is facing federal charges that could bring him the death penalty.
June 3 2014, 14:42