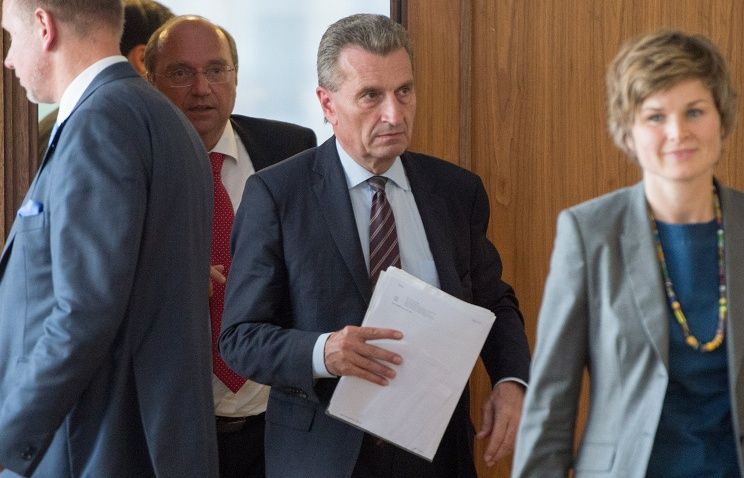 EU Energy Commissioner Gunther Oettinger (center) after the negotiations of the gas supplies between Ukraine and RussiaRussia confirmed receiving $786.4 million as payment for part of Ukrainian gas debt on Monday, the day when Moscow, Kiev and EU Energy Commissioner Gunther Oettinger will meet to discuss gas agreement and discounts, itar-tass reports.
Ukraine's parliament-appointed Prime Minister Arseniy Yatsenyuk said that Monday's talks between Russian Energy Minister Alexander Novak and Ukrainian Energy Minister Yuriy Prodan will either result in signing a Russian-Ukrainian deal or in Kiev turning to a Stockholm arbitration court.
Ukraine's Naftogaz of Ukraine has sent a draft additional agreement to Russia's gas giant Gazprom which can settle all the controversial matters, the company said in a statement.
"The additional agreement envisages the contract's price, volume and the terms of natural gas supplies," the statement said. "Naftogaz of Ukraine intends to resume the talks with Gazprom in a constructive manner."
The European Commission is also committed to reaching a deal.
"The European Commission believes it necessary to use all the possibilities to reach a mutually acceptable compromise. Russia and Ukraine must try to find at least an intermediate solution to prevent interruption in gas supplies," an European Commission official said.
On Friday, Ukraine said it paid $786 million, which Prodan said Kiev does not doubt as debt. Ukraine calculated the debt at $268.5 per 1,000 cubic meters of gas.
Kiev seeking revision of gas contract
Kiev has long been seeking a revision of a 2009 contract, under which it is to buy a set volume of gas, whether it needs it or not, at Europe's highest price of $485 per 1,000 cubic meters.
Moscowdropped the price to $268.5 after Ukraine's then-President Viktor Yanukovych turned his back on an association agreement with the EU last year, but reinstated the original price after he was ousted in February.
Gazprom says Ukraine owes it around $3.5 billion, and has threatened to stop supplying the neighboring former Soviet republic with gas if it fails to make a pre-payment for June supplies.
CEO Alexei Miller said that Gazprom is not ready to discuss a discount in the current circumstances.
Oettinger indicated that the European Commission may support Ukraine's discount demands but not before Ukraine repays the debt.
Ukraine prepares lawsuit against Russia
Prodan also said that Ukraine is preparing a suit worth "hundreds of billions of dollars" against Crimea's seccession from Ukraine in March.
"It is part of a larger suit which Ukraine is preparing against Russia," he said.
On May 30, Prodan said that Kiev was ready to file a suit against Russia's Gazprom to the court of arbitration in Stockholm to make Gazprom revise its contract prices for gas.
June 2 2014, 13:30