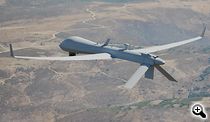 The Predator XP (photo: General Atomics Aeronautical Systems)Kazakhstan is looking seriously at acquiring large American surveillance drones, signing a memorandum of understanding with General Atomics, manufacturer of the Predator line of UAVs. And that's just one of an extensive slate of deals that the country is working out with defense companies around the world, eurasianet.org reports.
The deal with General Atomics was signed at the close of Kazakhstan's biennial defense expo, KADEX. The announcement from the state defense manufacturing firm, Kazakhstan Engineering, provides no details about the content of the agreement, and the company didn't respond to request for clarification. And officials at General Atomics said they had no comment on the memorandum.
But The Bug Pit talked to a General Atomics rep at KADEX before the announcement, who said that the company was in negotiations over the Predator XP surveillance drone, and that Kazakhstan was interested in a short-term lease of the drone to test out in Kazakhstan before it decided whether or not to buy.
The Predator XP is a version of the famous (or notorious) American drone made especially for export, and incapable of carrying weapons. Kazakhstan, being a large, sparsely populated country, can use long-range surveillance equipment. (But Kazakhstan isn't only interested in surveillance: The Bug Pit was told by one industry source that the former minister of defense of Kazakhstan was very interested in armed drones, which from an American company's perspective is a much more difficult prospect with respect to State Department export regulations. And the source suggested that the new defense minister, Serik Akhmetov, may be less insistent on that point, allowing a deal for surveillance-only drones to go through.) To date, the United Arab Emirates has been the only customer for the Predator XP.
Kazakhstan also has ambitious plans for an "aviation service center," currently under construction at the military airport in Astana (just next to the Eurocopter Kazakhstan Engineering plant where Airbus helicopters are being manufactured). Kazakhstan defense officials suggested that they hoped to manufacture or assemble whatever drones they buy at the facility; it's unlikely, however, that they would be interested in buying enough Predators to make it worth General Atomics's while to set up manufacturing in Kazakhstan. Officials from Kazakhstan Aviation Industries, the branch of Kazakhstan Engineering in charge of the aviation center, said they also envisaged production of Airbus's CASA NC-212i medium transport aircraft starting in 2015, and that the new center could assemble 5-6 of the aircraft per year. But Airbus officials said a final deal had not yet been reached. You'll notice a theme: Kazakhstan officials were eager to promote their deals with Western partners to the point of suggesting they were finalized when they weren't.
Anyway, these were just a handful of the contracts that were being hammered out at KADEX. Kazakhstan defense officials said that $1.2 billion in deals would be signed over the course of the show, and that they would include "Russian, European, and Turkish partners." The full slate of agreements hasn't yet been announced, but deals seemed to be underway with South African Paramount (for armored vehicles), Thales (for air defense radars, on which more soon) among other companies. And the same announcement that mentioned the deal with General Atomics said that a memorandum of understanding also had been reached with Poly Technologies, which was offering a ship for the Caspian Sea navy. Heady days for Kazakhstan's military.
May 30 2014, 18:34