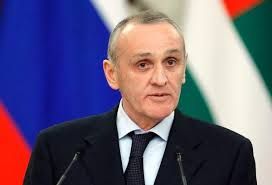 Alexander Ankvab.Opposition protesters stormed the presidency in Abkhazia overnight in what the leader of the Georgian breakaway region called a coup attempt, Russian news agencies said Wednesday, afp.com reports.
"This is an armed coup attempt," Alexander Ankvab was quoted as saying by the Interfax news agency.
Abkhazia is recognised only by Russia. Its capital Sukhumi is on the Black Sea coast.
Interfax said opposition groups took over the presidency overnight following a protest by around 1,000 people, forcing Ankvab to flee.
One of the leaders of the statelet's opposition, Raul Khadjimba, told the crowd that a coordination council "was taking over the leadership of the republic".
"I haven't left, I am still in Abkhazia," Ankvab said in a televised address quoted by the RIA Novosti news agency.
"The security forces remain loyal to the state and are taking measures to stabilise the situation."
The defence minister, interior minister and chairman of the security forces released a joint statement on Wednesday, condemning the use of "unconstitutional methods, which lead to destabilisation of the situation in the country."
"Escalation could lead to catastrophic consequences for the state," the statement said, quoted by Interfax.
Ankvab was believed to have fled to his home region in northwestern Abkhazia, Interfax said, quoting unnamed sources.
The Abkhaz parliament was set to hold an extraordinary session Wednesday to discuss the situation.
Ankvab was elected leader of Abkhazia in 2011 after the death of Sergei Bagapsh, who had led the breakaway region from 2005.
Abkhaz separatists declared independence after driving out Georgian troops in a civil war in the 1990s that killed several thousand people and forced a quarter of a million, mostly ethnic Georgians, out of the region.
Moscow recognised Abkhazia as independent in the wake of Russia's brief war with Georgia in 2008 and permanently stationed thousands of troops at military bases there -- a move that Tbilisi describes as occupation.
But with the exception of a handful of far-flung states, the rest of the world still regards Abkhazia as part of Georgian territory.
May 28 2014, 15:16