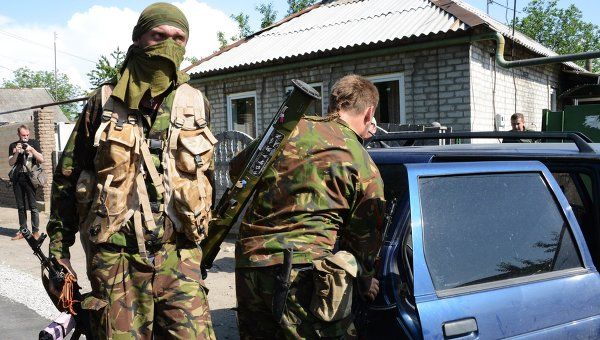 Soldiers of Donbass people's militia near Donetsk international airportOver 50 members of local self-defense forces and nearly the same number of civilians were killed in clashes on Monday with pro-Kiev troops in the eastern Ukrainian city of Donetsk, the prime minister of the self-proclaimed Donetsk People's Republic said Tuesday, ria. ru reports.
"We have lost more than 50 militiamen. A lot of people were injured when the Ukrainian army attacked two Kamaz [trucks] transporting the injured from the area of clashes near the airport. At least 15 people died then," Alexander Borodai told journalists who gathered outside a city morgue.
On Monday, Donetsk was targeted by a special operation of pro-Kiev forces. After a battle at the Donetsk airport, the self-defense forces retreated after having been bombed by Ukrainian aircraft. National Guard units of the Kiev regime began moving towards the center of the city, but federalists blocked their path with vehicles, and shooting broke out.
"Two of our Kamaz vehicles were shot both from the air, from helicopters and from an ambush on the ground. The shooting of the injured contradicts all the international conventions," Borodai said.
Most of the federalists were killed when Ukrainian troops deployed helicopters and fighter aircraft against them, he added.
About 50 civilians died when Ukrainian troops opened fire at self-defense forces who were retreating through residential districts.
Several dozen corpses were shown to the journalists. Most victims among the self-defense activists were local citizens. No Russian citizens were among them, he said.
There were also casualties among the Ukrainian troops, Borodai said.
The Ukrainian army is now controlling only the airport. All roadblocks approaching the city are under the control of the self-defense forces.
The deadly clashes came after Sunday's presidential vote in the country amid a large-scale military operation launched by the new Kiev authorities to crack down on protesters refusing to recognize the legitimacy of the government.
After claiming victory in the election, Poroshenko said the special operation in eastern Ukraine should continue and become more effective. On Monday, Poroshenko said he was ready to sit down at the negotiating table with all people of the turbulent Donetsk and Luhansk regions, but added illegal armed forces must lay down their weapons.
May 27 2014, 15:56