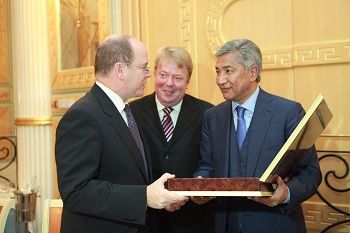 Mayor of Astana, Imangali Tasmagambetov met the Prince of Monaco, Albert the 2nd, today in Astana, reported the official website of http://www.astana.kz.
Prince Albert the 2nd is paying the official visit to Kazakhstan on the invitation of Nursultan Nazarbayev, the President of the Republic Kazakhstan. This is his first visit since the establishment of diplomatic relations between the two countries
In the course of the visit it is scheduled to hold high-level meetings and identify the future prospects for bilateral cooperation. Particularly, in the sphere of development of economic cooperation with Monaco there are wide opportunities. Attraction of Monaco capital and technologies is of high interest for Kazakhstan with implementation of priority projects within the framework of acceleration of industrial and innovative government programs.
WKT citing astana.kz
November 3 2012, 21:36