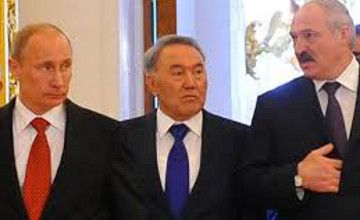 The Supreme Eurasian Economic Council with participation of the heads of state will convene in Astana on May 29, inform.kz reports citing the Akorda press service said.
Presidents Nursultan Nazarbayev of Kazakhstan, Vladimir Putin of Russia and Alexander Lukashenko of Belarus will attend the meeting. The parties are expected to sign the Eurasian Economic Union Treaty.
No crucial changes will be brought into the agreement on Eurasian Economic Union after its signing, said Samat Ordabayev, Deputy Minister of Foreign Affairs to kaztag.
"As for the future agreement- can any of the parameters be revised after its signing, including appearance of politicization elements, Parliamentary dimension, security threat? No, it is excluded. The base provisions will be signed," he said.
He reminded according to the first article of the agreement, "the new union is a regional international economic organization".
May 26 2014, 16:20