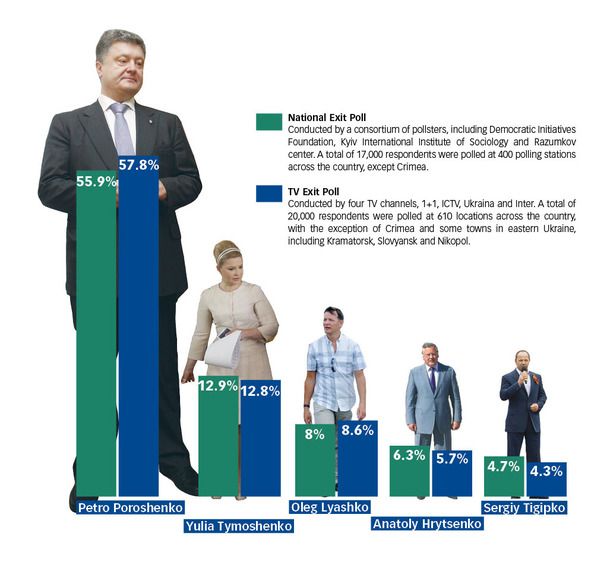 Petro Poroshenko wins Ukraine's presidency in the first round, according to the results of two national exit polls, with approximately 56 percent of the vote.Ukrainians elected Petro Poroshenko to be their fifth president in a vote that was dubbed "the second independence referendum," because of voters' determination to cast their ballots despite a Russian-backed war against the nation, kyivpost.com reports.
Poroshenko won his presidency in the first round, according to two exit polls, avoiding a second-round runoff that would have been required on June 15 if he had fallen short of a majority of votes.
The poll conducted by four TV channels showed that he received 57.8 percent of the vote. Meanwhile, the national exit poll, conducted by a consortium of reputable survey takers, put Poroshenko at slightly less -- 55.9 percent of the votes, but still a clear majority.
His main rival, former Prime Minister Yulia Tymoshenko, received 12.8 of the vote in the TV poll and 12.9 percent in the national poll.
Everyone else in the 21-candidate field finished in single digits in both exit polls.
Poroshenko speaks with supporters
Less than 30 minutes after the polls closed, Poroshenko addressed thousands of supporters at his Kyiv headquarters in Arsenal Mystytskiy in a victory rally. He spoke in English, Ukrainian and Russian -- a refreshing contrast to Ukraine's first four presidents.
"You see that all exit polls held by the most trustworthy institutions say that the elections ended in the first tour and the country has a new president. First of all I want to thank Ukrainian people who showed a record turnout," Poroshenko said. "Neither rain no thunderstorm - although a storm is a good sign - did not prevent them. I want to thank all the Ukrainians for the trust they showed in me and my team. Over 90 percent of Ukrainians voted for a united Ukraine - not a federative state. I thank very much for this too. It was a basic issue of my program; 80 percent of Ukrainians supported the European vector for Ukraine. I want to especially thank the people of Crimea who in the most difficult conditions did what they can, managed to get out of Crimea and voted. Now we can say for sure - all the country voted. The president of the whole Ukraine was elected."
Poroshenko said he will try to end the war against Ukraine instigated by Kremlin-backed separatists.
"The first steps of my team will focus on ending the war, the chaos, the unrest and bring peace to the land of Ukraine," Poroshenko said. "My first trip as president will be to the Donbas (of Luhansk and Donetsk oblasts). I will thank them. And I will thank the Ukrainian military who protected the people and the polling stations. We will take unhesitating steps to implement the association agreement with the European Union."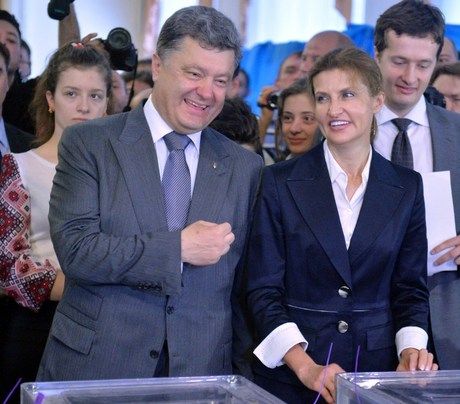 Ukrainian presidential candidate Petro Poroshenko crosses himself as he and his wife Marina cast their votes at a polling station in Kiev on May 25, 2014.Poroshenko then introduced Kyiv's first elected mayor in many years, heavyweight boxing champion and member of parliament Vitali Klitschko, whose withdrawal from the presidential race and endorsement of Poroshenko helped consolidate democratic forces.
Klitschko expected to be elected Kyiv mayor
Klitschko said: "I want to sincerely thank all those who came to the polling station despite the lines, the heat, all the conditions that Ukraine is at now, and performed their duty." He called for an assault on corruption because "we won't be able to do any reforms until we stop the corruption. All the changes (in the country) will begin with Kyiv."
Poroshenko then fielded questions, calling relations with Russia "the hardest in the last 200 years. I'm sure that we can talk to Russia with the help of U.S. There are some issues that are principle for Ukrainians - Ukraine will never approve the illegal referendum" that led to Russia's annexation of Ukraine's Crimean peninsula.
Tymoshenko conciliatory
The race's runner-up, Tymoshenko, sounded conciliatory without conceding loss. "I'm greeting Ukraine with the fact that despite the foreign aggression and attempts of Kremlin to disrupt the election, the election took place," she said.
Analyst has mixed reaction
Timothy Ash, an analyst with Standard Bank in London, said: "Turnout seems to have been very high, representing a vote by the population in favur of an independent Ukraine. This represents a defeat for seperatists in southeastern Ukraine, and also for President Vladimir Putin and Russia. It was important that the turnout was high, that a second round run off was avoided, while also that the victor - in this case, seemingly Poroshenko - secured a signficant mandate to rule. And this vote has delivered all these aspects. Russia and Putin have no real choice but to accept this vote as legitimate and reflecting the interests of the Ukrainian population. Perhaps Putin's statements to this effect last week reflected his understanding that Russia had lost "hearts and minds" in Ukraine by its less than constructive approach in recent months. Russia can still significantly undermine a Poroshenko presidency, and it will be waiting to see what the president-elect is going to deliver in terms of concessions, including forging a new coalition government (to include those better representing Russia's interests), committments to no NATO membership nor European Union integration, and a new federal constitution. Not sure that Poroshenko can or will be willing to deliver on much of this agenda, and particularly after this landslide victory."
The turnout was expected to be around 60 percent nationwide and much higher in the western parts of the country where 52 percent voted by 4 p.m., according to OPORA, the biggest election watchdog. There were fears that many will not be able to vote at all because of long queues.
Prosecutors call election democratic, clean
Prosecutors called today's election one of the most democratic and cleanest in Ukraine's history.
"Today's election is the most democratic one in recent history," said Mykola Hosovskiy, head of the main department of the General Prosecutor's Office. He said the general prosecutor's received 47 complaints from participants in the course of the campaign, 18 times less than in 2010. There were no complaints in 11 regions at all, Hosovskiy. "For the first time in the history of election processes in Ukraine, there were no complaints to prosecutor offices, about the use of administrative resources," he said.
When asked by a foreign journalist about Ukraine's $3.7 billion gas debts to Russia, Poroshenko turned the question around and put the focus on what Russia needs to do to restore Ukraine's territorial integrity.
Andriy Magera, deputy head of the Central Election Commission, advised people to get inside polling stations by 8 p.m. to make sure that its officials are obliged to give people ballots.
People waited in long queues for hours in crowded polling stations, especially in Kyiv and other cities where mayoral and local elections were held on the same day. Because of the whopper turnout, the vote was dubbed "the second referendum for independence" by users of social networks in Ukraine as people proudly posted selfies of themselves voting in national clothes.
Separatists prevent most voting in Luhansk, Donest oblasts
Eastern Ukrainian Luhansk and Donetsk oblasts made a sharp contrast with the rest of the country. Most polling stations failed to open for the vote because of intimidation and attacks by separatist gangs who pledged they would not allow a national election in that part of the country, where two independent republics were proclaimed earlier this month.
In Novoaidar in Luhansk Oblast at least one man was killed in a shootout outside of a polling station which opened in the morning, and then was stormed by the separatists.
By 3 p.m. turnout in Luhansk Oblast was 17 percent by 3 p.m., while in Donetsk it was 10 percent, according to the Central Election Commission. There was no vote in Crimea, which was annexed by Russia in March.
In eastern Ukraine, many feared to go to the polls even in towns where the central government managed to organize the election. Those who braved it, said they were voting for peace."I'm sure this will help to establish peace and stability here," said Maria Andriyivna, 60, after casting her ballot in Svatovo, the stronghold of Ukrainian army in Luhansk region. She was afraid to give her last name.
Head of the Central Election Commission Mykhailo Okhendovskiy said that his commission received many letters from eastern Ukraine, in which people requested to count their vote in for a candidate of their choice. "We would be pleased to do it if the law allowed," he said at a briefing on May 25.
Poroshenko, who voted in Kyiv along with his family, pledged to address the problems of Donetsk Oblast as soon as he comes to power.
"The first thing we will do is the direct dialogue with residents of Donbas," Poroshenko said after casting his ballot. He also pledged to fight corruption regardless of ranks and affiliations, "whether it covers opponents or allies."
Poroshenko can be inaugurated as early as June 9.
May 26 2014, 00:46