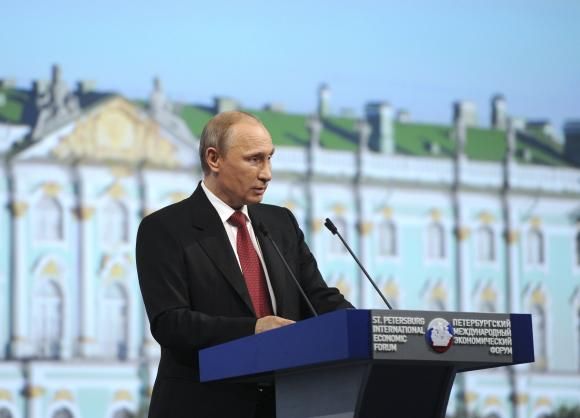 Russia's President Vladimir Putin speaks during a session of the St. Petersburg International Economic Forum 2014 (SPIEF 2014) in St. Petersburg May 23, 2014. (Reuters)President Vladimir Putin said on Friday he wanted better ties with the West but fiercely criticized U.S. policy on Ukraine and the global economy - and acknowledged that sanctions were hurting Russia, reuters.com reports.
In a speech to foreign and Russian businessmen gathered at Russia's answer to the Davos World Economic Forum, Putin sent mixed messages, signaling he would work with whomever is elected Ukraine's president on Sunday and trying to woo foreign investors by promising reforms.
But, describing the situation in Russia's neighbor as civil war, he accused the United States of fomenting unrest in Ukraine and aggravating global economic problems, and reiterated concerns that Ukraine would one day join NATO.
"We are not planning any self-isolation," Putin told the St Petersburg International Economic Forum, an annual conference that is meant to showcase Russia as a place to d obusiness but has this year been boycotted by many American bosses.
"We hope that common sense ... will prompt our European and U.S. partners to work with Russia," he said, looking pale after a trip this week to China in which he concluded a $400-billion gas supply deal.
But reverting to the anti-U.S. rhetoric that has been a hallmark of his third term as president since May 2012, he appeared to try to drive a wedge between the United States and the European Union over the sanctions they have imposed over Russia's annexation of the Crimea peninsula from Ukraine.
He said Washington had "crapped" in Ukraine by encouraging the removal of pro-Moscow President Viktor Yanukovich, but that European businesses had shown a more pragmatic approach - the European Union has been reluctant to impose tough sanctions because of its heavy reliance on Russian natural gas supplies.
"The world has changed," Putin said. Indirectly criticizing Washington, he added: "The unipolar vision of the world ... has failed."
"REAL IMPACT" OF SANCTIONS
A senior government official said at the forum in Russia's second-biggest city on Thursday that the sanctions, mainly ivisa bans and asset freezes on individuals and companies close to Putin, were having a serious effect.
Putin acknowledged this more openly than previously, saying: "The sanctions ... are having a real impact."
Russia is sliding into recession and capital flight has accelerated this year as the crisis in Ukraine caused the biggest East-West standoff since the Cold War.
Russia seized and annexed Crimea in March and has since then massed tens of thousands of troops on the frontier. Kiev and its Western allies say Moscow is behind an uprising in eastern Ukraine by armed separatists who have declared independence and called for Russian military support.
Ukraine will hold a presidential election on Sunday, and Washington and Brussels have threatened to impose much tougher sanctions if Moscow interferes with the vote.
Attempting to end doubts that Moscow will not recognize the legitimacy of the next president, Putin said: "We will treat the choice of the Ukrainian people with respect."
He called for better relations with Ukraine but said it must halt military operations against the separatists in east Ukraine, pay off its gas debt to Russia and release Russian journalists held in detention.
Addressing the decline of Russia's $2 trillion economy, he said his country must reduce its reliance on energy exports which provide about 25 percent of gross domestic product, and said Russia must boost major domestic banks and industries.
Putin also said there was a plan to create a state fund to help replace imports from Western countries with domestic production.
May 23 2014, 19:26