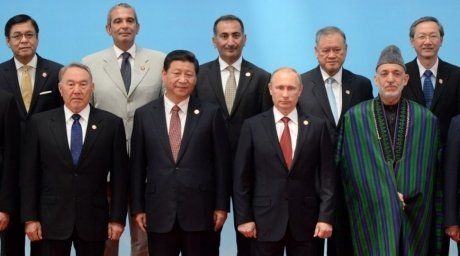 CICA participants. Photo ©AFPParticipants of the 4th Conference on Interaction and Confidence Building Measures in Asia (CICA) have adopted a Shanghai declaration, tengrinews reports. The summit was held on May 20-21. Eleven heads of state, one government head, and ten heads of international organizations attended the summit, including Russian president Vladimir Putin, Iranian president Hassan Rouhani, Kazakhstan president Nursultan Nazarbayev and UN Secretary-General Ban Ki-moon.
The new CICA Chairman China's President Xi Jinping said that the conference was successful as parties agreed on ensuring security and stability in the Asian region.
"We will stick to the foundational principles of the international relations such as respect for sovereignty and territorial integrity, mutual non-interference into internal affairs and settlement of disputes through peaceful negotiations. We paid close attention to security threats and unanimously concluded that Asian countries should establish practical cooperate in combating terrorism, drug trafficking and transboarder organized crime, ensure protection of human rights and nonproliferation of nuclear weapons, and jointly work towards food and energy security," Xi said.
The President of China thanked Nursultan Nazarbayev, President of Kazakhstan, for his contribution into establishment and development of the CICA.
Nazarbayev said that the summit chaired by China served to demonstrate unity of goals of the CICA countries. "The conference that embraces the most part of the Asian continent has shown that countries are committed to enhancing a dialogue between countries. (…) I am sure that the borders of the conference will broaden as new countries would want to become members of our organization," the President of Kazakhstan said.
President Nazarbayev reminded of his official visit to China right before the summit. "We brought the cooperation between our countries to a new level. We are starting new joint projects. We are already putting the proposals of Chairman Xi Jinping in regards to economic development of the Silk Road countries into practice. That includes railways, highways and joint enterprises we have with China. All in all, China has invested $20 billion into Kazakhstan since we gained independence," Nazarbayev said.
Nazarbayev added that Kazakhstan has high hopes for China's chairmanship in the CICA. "The new concept of Asian security and economic development of the Silk Road countries suggested by Chairman Xi Jinpingare is a long term initiative that would work for the benefit of all these countries," Nazarbayev concluded.
The Conference on Interaction and Confidence-Building Measures in Asia (CICA) established in 1999 is an inter-governmental forum for enhancing cooperation towards promoting peace, security and stability in Asia. It is a forum based on the recognition that there is close link between peace, security and stability in Asia and in the rest of the world. It now has 26 member states, 7 observer states and 4 observer organisations.

May 23 2014, 18:09