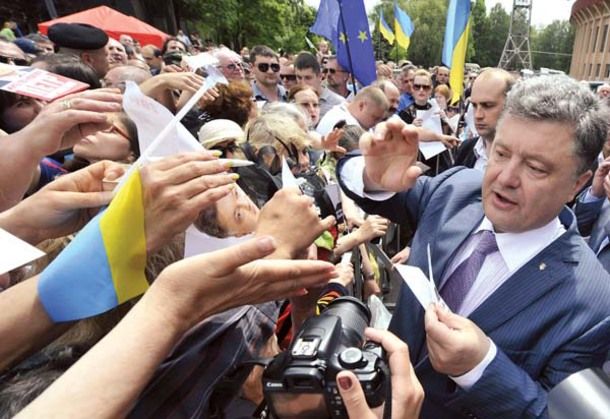 Ukrainian independent presidential candidate Petro Poroshenko is greeted by supporters on May 17 in Dnipropetrovsk Oblast. If the polls and the candidate's confidence in the public mood are right, Petro Poroshenko may get elected in a landslide, skipping the need for a second-round runoff. But he will have to get more than 50 percent of the vote on May 25 on a ballot crowded with 21 names, none of whom are given much of a chance in this truncated campaign triggered by the Feb. 22 overthrow of President Viktor Yanukovych, kyivpost.com reports.
But what kind of president would Poroshenko make starting on June 9, the earliest date he could be inaugurated as Ukraine's fifth president, replacing interim President Oleksandr Turchynov?
Poroshenko is believed to be smart and capable. But there still remains a lot of doubt whether these traits will translate into good governance.
There will be plenty of ways to judge his success, and quite soon.
His first priority is nothing less than national survival in facing down – or coming to an agreement with – Russia, which has annexed 5 percent of Ukraine in seizing the Crimean peninsula in March, and is now threatening to dismember the eastern two oblasts where another 15 percent of the nation lives.
Assuming he can keep the nation united and the Kremlin at bay, Poroshenko has several promises to keep in deepening Ukraine's European integration.
One of them is his pledge that Ukrainians will be able to travel to the European Union without needing visas by January. He also pledges to sign the full EU association agreement for closer economic ties possibly in June.
He pledges to fight Russia in international courts.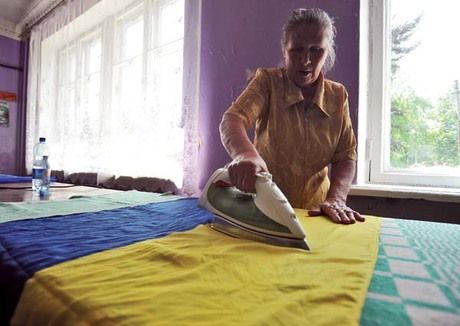 A member of an election commission irons a Ukrainian flag at a polling station ahead of the presidential election at Octyabr village in Donetsk Oblast. Ukrainians will choose a president on May 25."Right after the presidential election, I will ensure the fastest possible implementation of the association agreement," Poroshenko said at one of his campaign rallies.
He said he would assign the job to a new deputy prime minister and make sure that every ministry has a deputy chief who could complete the massive work required for implementation of the 1,000-page agreement that Poroshenko was involved in negotiating, first as foreign minister under President Viktor Yushchenko and then as economy minister under President Viktor Yanukovych.
Another part of the agenda is to clean up corruption, and that job might turn out to be more complicated for the 48-year-old Odesa Oblast native who made a fortune of $1.6 billion in Ukraine's murky business environment. Vinnytsia is now considered his home city.
The son of a former director of a Soviet blue-chip company, Poroshenko got a good start in life, but is nevertheless mostly self-made. Much of his early business success was due to his smarts. His official biography says he made his first money by importing cocoa beans in the late 1980s-early 1990s.
In 2000, he told the Kyiv Post that as a student of an international trade relations university at the time, he and other friends learned that a shortage of imported cocoa beans in the Soviet Union was the reason for a chocolate deficit. The discovery provided a huge opportunity for clever young individuals who had just learned how international trade works.
The young men started buying cocoa beans at commodities exchanges, and soon were the lucky importers of 30 percent of this precious ingredient in the former Soviet Union.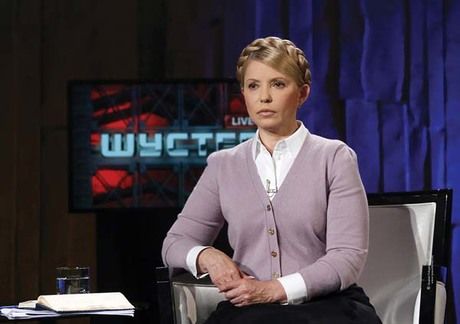 Yulia TymoshenkoThe debts of chocolate factories, combined with Poroshenko's business savvy, allowed him to eventually create the Roshen chocolate empire. He got nicknamed the Chocolate King along the way - a cruel irony for a diabetic.
His brand, which derives from a part of his surname, has been voted Ukraine's favorite in the past three years.
"Creating a brand that has become the most favorite for Ukrainians, without any compromises on quality, is a big achievement. And it's his personal achievement," says Hlib Vyshlinsky, deputy director of GfK-Ukraine, a market research company.
Poroshenko has considerable assets in the automobile and shipbuilding industries, and owns Channel 5. He vowed to sell all businesses, with the exception of the TV channel, which Poroshenko said did a great public service during the two revolutions of the past decade in Ukraine.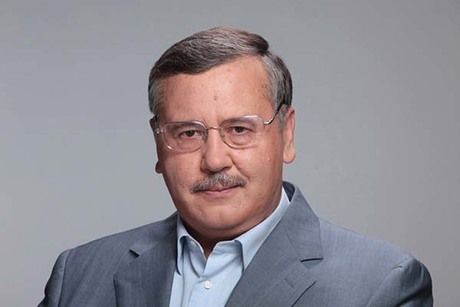 Anatoliy GrytsenkoHis opponents say that his lesser known businesses are a part of their concern of how clean he is.
"It's publicly known that the wealth of Petro Poroshenko… grew to over $1.6 billion after he worked as minister for economic development in the Yanukovych-(Mykola) Azarov government. It's also public knowledge that the minister for economic development is responsible for the state procurement tenders, where traditionally the most massive corruption in our country has taken place," said Andriy Pavlovskiy, a leading figure in the campaign of ex-Prime Minister Yulia Tymoshenko, Poroshenko's main rival.
According to an April poll conducted by four sociological services, only 4.4 percent of Ukrainians consider Poroshenko to be an honest man. The same poll showed that more than 39 percent think his main asset is being clever and well educated.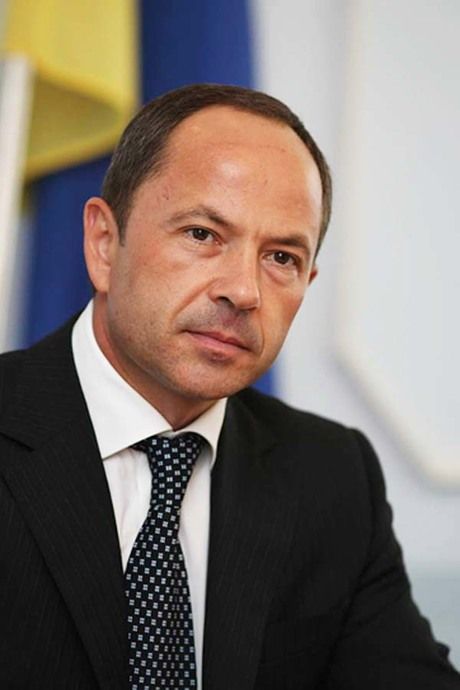 Sergiy TigipkoPavlovskiy has said that one of Poroshenko's companies, the trader in spare parts Ukravtozapchastyna, received Hr 457 million of state procurement orders in six years, of which Hr 386 million came during the Yanukovych era. He said the car trader Bogdan received Hr 904 million worth of orders under Yanukovych.
Poroshenko has always insisted that he has built a clean, transparent business. At every rally during his campaign he said that an average wage in his Roshen empire is Hr 7,000 monthly - more than twice the national average.
Poroshenko has managed to work in most governments in the past 20 years and with just about every major political figure, including some controversial ones like Viktor Medvedchuk, Vladimir Putin's personal friend and closest ally in Ukraine.
Poroshenko also had a meeting with gas and chemicals tycoon Dmytro Firtash on March 25 in Austria, after Firtash's release on bail from U.S. criminal charges involving bribery and corruption in a bid to win a foreign business contract. Firtash says he is innocent.
Poroshenko's political connections in every camp might become his strength in negotiations, but also might turn out to be a huge liability in his attempt to clean the house.
"When he knows everyone personally, how much strength do you have to jail everyone and their children for corruption?" asks Vitaliy Sych, former chief editor of Korrespondent weekly news magazine that was once owned by Poroshenko.
Poroshenko is short of people he can call his political team to fight on his behalf. Hie election campaign is run by Vitali Klitschko's people, as well as renegades from Tymoshenko's camp, so the future composition of Poroshenko's government is still a mystery.
He has promised to keep Prime Minister Arseniy Yatseniuk and Deputy Prime Minister for Regional Reform Volodymyr Groysman in their jobs, but said he would revamp the rest of the Cabinet radically. It might prove harder than it sounds. Under the current constitution, a parliamentary coalition forms the government.
Despite her declining popularity, the latest poll by Democratic Initiatives/Razumkov Center think tanks indicate that Yulia Tymoshenko still has a fragile hold on second place in the presidential contest with 8.4 percent. This means that if Petro Poroshenko fails to get more than 50 percent of the vote, he could face Tymoshenko in the second round.
In 2010 presidential election, Tymoshenko lost in the second round to the ousted former President Viktor Yanukovych with just over 45 percent of the vote.
Anatoliy Grytsenko was Ukraine's minister of defense for two years during the Orange coalition government. He has campaigned on his experience as a career military officer and his connections to the United States. In the 1990s he served stints at the U.S. Air War College and the Defense Language Institute at the Pentagon, which means that he speaks good English. Grytsenko ran for president in 2010, earning just over one percent of the vote. As of May 21, his popularity stood at 7.5 percent of the electorate.
Sergiy Tigipko, a self-nominated candidate and formerly a senior Party of Regions member, takes fourth place in the polls – with an even 7 percent. Tigipko is perceived as hailing from
the more progressive Dnepropetrovsk wing of the Party of Regions and he scored some 17 percent in the 2010 presidential elections running as a technocrat on his credentials as former chairman of the National Bank and minister of economics. But this time around, his party's affiliation with Yanukovych meant an uphill battle from the start. This, combined with a poorly run campaign reliant on Moscow-based expertise, suggests that Tigipko is unlikely to make the second round.
May 23 2014, 16:55