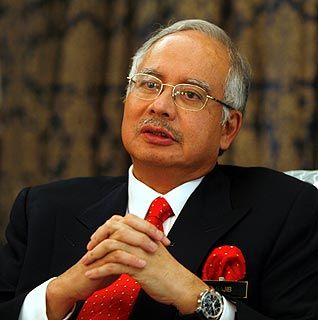 Prime Minister of Malaysia Datuk Seri Najib Razak.Prime Minister of Malaysia Datuk Seri Najib Razak is scheduled to arrive Astana on Thursday for a three-day official visit in efforts to enhance bilateral ties in various fields between Malaysia and Kazakhstan, ca-news.kz reports.
During the visit, the prime minister's second since 2011, he will be given the honour to deliver a keynote address at the Astana Economic Forum as a special guest of Kazakhstan President, Nursultan Nazarbayev, according to Malaysian media.
Malaysian ambassador to Kazakhstan, Datuk Hidayat Abdul Hamid said the visit, at the invitation of Nazarbayev, was to pave the way for both countries to enhance bilateral relations in the fields of politics, economy, trade and investment as well as collaboration in education and tourism.
"Malaysia is seen by Kazakhstan as a moderate and progressive country. President Kazakhstan often makes Malaysia as an example of a developing country that is stable," he told a media conference with Malaysian journalists here. Najib will be accorded an official welcome on Friday afternoon in the Presidential Palace and to be followed by a meeting with Nazarbayev and delegates conference to discuss various joint interests and future opportunities.
Hidayat said Kazakhstan, the world's ninth biggest country located in Central Asia, was currently vigorously developing its transport infrastructure sector in efforts to build land bridges to connect Asia and Europe.
May 22 2014, 17:16