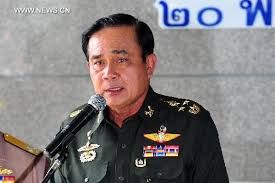 Thailand's army chief General Prayuth Chan-OchaA day after martial law was imposed in protest-hit Thailand, army chief, General Prayruth Chan-Ocha, is hosting talks with some of the country's key political figures, euronews.com reports.
On the agenda is a strategy to end Thailand's political turmoil, while the outcome of the talks is expected to shed some light on whether the army will extend its powers beyond security.
Army spokesperson Srichan Ngat Hong announced the meeting, and confirmed that some of those invited include members of the government, the Senate speaker and leaders from the two main protest groups.
"We have invited many groups and many factions who play a major role in the country to send five representatives to discuss a way out," she said.
Caretaker Prime Minister Niwatthamrong Boonsongphaisan has called on the army to act peacefully.
At least 28 people were killed in Thailand between November 2103 and May 2014 during rallies to oust the government.
In imposing martial law, the army says it intends to "preserve order and bring back peacefulness".
May 21 2014, 15:27