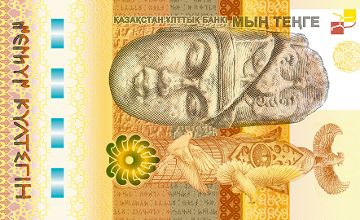 The National Bank of Kazakhstan has once again won the award for "Bank Note of the Year".
Kazakhstan's commemorative 1000 tenge banknote was named The Banknote of the Year in the International Banknote Society contest (IBNS). The banknote is dedicated to a historical figure Kultegin, who was a political leader of the Second Turkic Kaganat, the press service of the National Bank informs.
This was Kazakhstan's third win in a row, having previously been awarded for the 20th anniversary edition of its 10,000 tenge banknote in 2011, and for the 5,000 tenge banknote featuring the Kazakh Eli monument and flying doves, in 2012.
IBNS is an independent international society of over 2,000 banknote collectors from over 90 countries.
Kazakh banknotes have won several international prizes in the past from organizations like the International Association of Currency Affairs (IACA).
IBNS's first award "Bank Note of the Year" (2011) was awarded to the national currency of Kazakhstan in 2012 for a commemorative banknote 10,000 Tenge dedicated to the 20th anniversary of Independence of Kazakhstan. After that the IBNS announced that its voting membership had again selected the National Bank of Kazakhstan to receive its prestigious "Bank Note of the Year" award for 2012. Facing stiff competition as always from nearly 100 new banknotes released worldwide in 2012, the 5000 Tenge denomination Kazakhstan note was followed in voting by the Canada 50 Dollar and Jersey 100 Pound currency bills. Third award for "Bank Note of the Year" is a historic moment in the annals of independent Kazakhstan since before the national currency of no country was awarded three times.

The nominees for the award were the banknotes of 12 countries including the U.S. 100 Dollar 5 Euro, and the commemorative banknote 100 Russian Rubles dedicated to the Sochi Olympics.

The commemorative banknote of KZT 1,000 (one thousand tenge) nominal value of the sample of 2013, dedicated to "Kultegin" - the monument of the Turkic runic writing, is made of the paper of size 134 х 70 mm. The prevailing color of the banknote is yellow-brown. Date of issue: December 12, 2013 a limited edition of 10 million units.

These awards are very significant for our country because winner selection is conducted by persons who are not interested in promoting a particular banknote, and the selection is based solely on aesthetic perception of design, print quality and application of the method of protection against forgery.
May 20 2014, 15:45