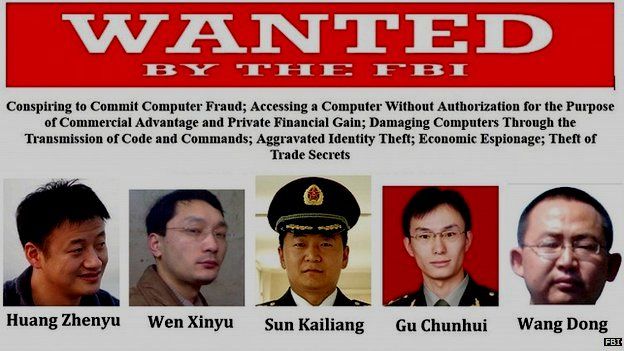 China has denounced charges brought by the US against five army officers accused of economic cyber-espionage, bbc reports.
Beijing said it had "never engaged or participated" in cyber theft and that the charges would damage co-operation between the two countries.
China summoned the US ambassador to Beijing over the incident, the state news agency Xinhua reports.
US prosecutors say the officers stole trade secrets and internal documents from five companies and a labour union.
But the Chinese foreign ministry urged Washington to "immediately correct its mistakes" and withdraw the charges.
Spokesman Qin Gang, quoted by Xinhua news agency, said the charges were "purely ungrounded and with ulterior purpose".
He said China had decided to suspend activities of the China-US Cyber Working Group. The group was set up in April.
"Given the lack of sincerity on the part of the US to solve issues related to cyber security through dialogue and co-operation, China has decided to suspend activities of the China-US Cyber Working Group," Mr Qin said.
China has always insisted that it is itself a victim of cyber theft, wiretapping and surveillance activities by the US.
Mr Qin added: "We once again strongly urge the US side to make a clear explanation of what it has done and immediately stop such kind of activities."
Chinese Assistant Foreign Minister Zheng Zeguang lodged a "solemn representation" with US ambassador Max Baucus on Monday night, Xinhua reported.
Steel targets
US Attorney General Eric Holder said a grand jury had laid hacking charges against the Chinese nationals, the first against "known state actors for infiltrating US commercial targets by cyber means".
He identified the alleged victims as Westinghouse Electric, US Steel, Alcoa Inc, Allegheny Technologies, SolarWorld and the US Steelworkers Union.
"The alleged hacking appears to have been conducted for no reason other than to advantage state-owned companies and other interests in China, at the expense of businesses here in the United States," Mr Holder said.
In the indictment brought in the western district of Pennsylvania - the heart of the US steel industry - the US named Wang Dong, Sun Kailiang, Wen Xinyu, Huang Zhenyu, and Gu Chunhui, all officers in Unit 61398 of the Chinese People's Liberation Army (PLA), as the alleged conspirators.
FBI officials said the hacking in the years 2006-14 caused "significant losses" at the companies and that there were likely many more victims.
John Carlin, head of the justice department's national security division, said, "While the men and women of our American businesses spent their business days innovating, creating, and developing strategies to compete in the global marketplace, these members of unit 61398 spent their business days in Shanghai stealing the fruits of our labour."
'Real threat'
For example, Mr Carlin said that as SolarWorld, a maker of solar panels and accessories, was rapidly losing market share to cheaply priced Chinese competitors, the hackers were stealing documents on pricing strategy from them.
While Westinghouse was negotiating a deal with a Chinese state-owned firm to build nuclear power plants, Unit 61398 stole secret designs for plant components, he said.
"In the past, when we brought concerns such as these to Chinese government officials, they responded by publicly challenging us to provide hard evidence of their hacking that could stand up in court," Mr Carlin said.
Last year, cyber-defence company Mandiant published a report on a Chinese military unit the firm said was behind the vast majority of significant attacks on American federal agencies and companies.
FBI officials said the hacking between 2006-14 caused "significant losses" at the companies and that there were likely to be many more victims.
In March, Defence Secretary Chuck Hagel said the Pentagon planned to more than triple its cyber-security capabilities in the next few years to defend against such internet attacks.
US President Barack Obama has called cyber attacks a "real threat" to US security and its economy.
May 20 2014, 11:39