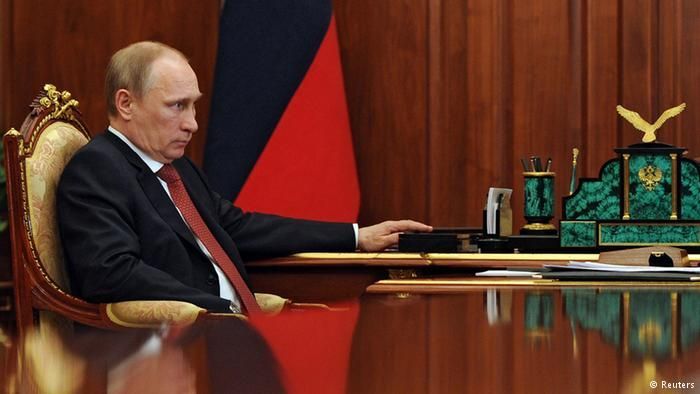 Vladimir PutinRussian President Vladimir Putin ordered Defense Minister Sergey Shoigu to send troops back to bases from drills they were having in the southwestern regions of Rostov, Belgorod and Bryansk, on the border with Ukraine. In the same statement, Moscow called on Kiev to cease violence in southeastern Ukraine, immediately, azh.kz reports citing Deutsche Welle.
Although NATO is saying that it has seen no signs of soldiers returning to their bases and urges Russia to follow through on its many pledges to withdraw troops along Ukraine's eastern border.
There's no evidence of troop reductions along the Ukrainian border, despite Moscow's pledge to do so, NATO Secretary General Anders Fogh Rasmussen said Monday.
Kiev said it's monitoring the situation to ensure the troops are returning to their permanent bases.
NATO reiterated the need for the withdrawal, and Rasmussen said he'll "be the first" to welcome it.
"I think it's the third Putin statement on withdrawal of Russian troops ... but so far we haven't seen any withdrawal at all," Rasmussen said.
"Withdrawal of Russian troops will be the first step to de-escalating the situation."
Sporadic military clashes between Ukrainian troops and self-defense forces have been reported throughout the weekend in the towns of Slavyansk and Kramatorsk in the Donetsk region – two hotspots of the ongoing military operation conducted by Kiev to suppress anti-government forces there.
Ukraine's Donetsk and Lugansk regions held referendums on May 11, where the majority of voters supported self-rule. Now the breakaway regions are rejecting the idea of participating in the Ukrainian presidential elections on May 25.
Rasmussen said that Russia and Ukrainian separatists should practice restraint to allow Ukraine's presidential election to go on as planned Sunday.
May 19 2014, 18:36