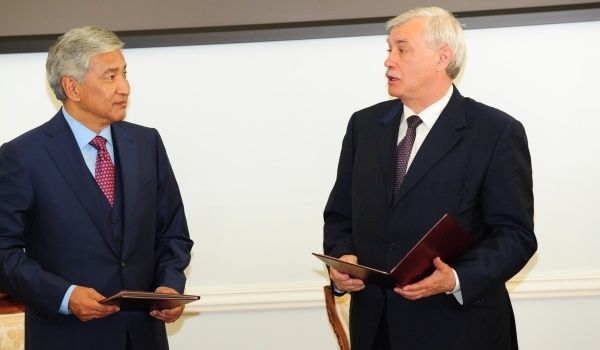 Mayor of Saint Petersburg Georgy Poltavchenko and Mayor of Astana I. Tasmagambetov.Construction of a new business center and shopping mall titled Astana will start in Saint Petersburg, Russia, this was announced during the Astana culture days in Saint Petersburg, akipress,kg reported on Monday, citing astana.gov.kz.
Mayor of Astana city Imangali Tasmagambetov laid a capsule at the construction site. In his speech, mayor Tasmagambetov noted the importance of Kazakh-Russian cooperation.
Mayor of Saint Petersburg Georgy Poltavchenko took part in the capsule laying ceremony. He said the center is to widen economic cooperation between the two countries.
The new multifunctional complex will include various offices, banks, representative offices of Kazakhstani and Russian companies, exposition hall, trade and entertainment rooms, and other.
Construction of the center will be completed by 2017.
May 19 2014, 17:21