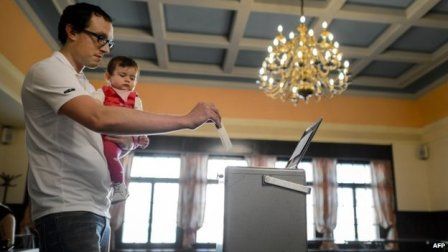 Votes were held on a number of issues with the minimum wage attracting the most attention.Swiss voters have overwhelmingly rejected a proposal to introduce what would have been the highest minimum wage in the world in a referendum, bbc.com reports.
Under the plan, employers would have had to pay workers a minimum 22 Swiss francs (about $25; £15; 18 euros) an hour.
Supporters said the move was necessary for people to live a decent life.
But critics argued that it would raise production costs and increase unemployment.
The minimum wage proposal was rejected by 76% of voters. Supporters had argued it would "protect equitable pay" but the Swiss Business Federation said it would harm low-paid workers in particular.
The issue was the most prominent of several referendums held on Sunday.
A controversial plan to buy 22 Swedish-made Gripen fighter jets for the Swiss Air Force was narrowly rejected by 53% of voters.
Meanwhile, 63% of voters backed a plan to impose a lifelong ban on convicted paedophiles working with children.
But it was the trade union-backed proposal to ensure that an annual salary was not less than £32,000 ($53,600) a year that provoked the most debate.
May 18 2014, 21:22