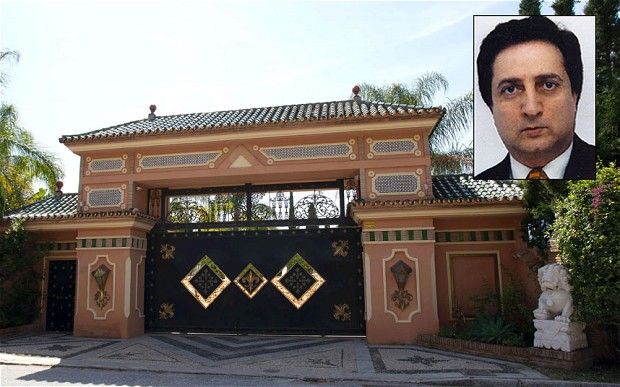 hoja Shojai, inset, is suspected of a harem of women against their will in his mansion near Marbella, pictured A wealthy Briton has been arrested in Spain on suspicion of holding a harem of women against their will and fathering at least seven children with them, typicallyspanish.com reports.
Shoja Shojai, 56, is alleged to have met most of the women, who were prospective models, in London, persuading them to move to his villa near Marbella.
Mr Shojai, who was born in Iran but has a British passport, is believed to have boasted to the women he was an oil tycoon who was friends with Barack Obama and Vladimir Putin.
Police were called to the sprawling Arabic style home when one of the women made an allegation of domestic violence against him. There they discovered a group of women, mostly in their 20s, nine of whom have alleged that they were lured to Spain on false pretences.
They claim that they were subjected to emotional abuse and threats of physical violence to keep them there.
Reports in the Spanish press also suggested that police found drugs, including the date-rape drug rohypnol, at the property. The women and their children, aged between nine months and seven years old, have been taken to refuges, while Mr Shojai has been released on bail.
Mr Shojai is understood to have met the women, who came from a number of countries including Russia, Mongolia and Kazakhstan, while they were studying fashion in London.
They allegedly told police he persuaded them to move to Spain after promising them he could further their careers.
Mr Shojai is thought to have links to Ilford, east London, but it is not clear how he made his fortune or what connections he still has in Britain. It is thought that Spanish detectives will now work with Scotland Yard on the investigation.
The property where Mr Shojai and the women were living is a 10-bedroom villa called Casa Saf in the hills above Marbella. The women have allegedly told police they were allowed out only when accompanied.
They said he threatened reprisals against their children and families if they disobeyed him.
But a worker at the property said he did not believe the women were being held against their will.
"They left in the mornings in their cars without any problems to take their children to school," he said. "I can only say what I saw during the day though. I've no idea what happened at night."
A neighbour, who asked not to be named, said: "The women were very young and very pretty and were usually impeccably dressed in designer clothes.
"When they left the house in 4x4s, they were always accompanied by workers who looked like chauffeurs who doubled up as bodyguards.
Mr Shojai was understood to be married to one of the women, a 33-year-old Danish mother of two. But it is not clear whether she was among the accusers.
He has denied all the claims and allegations. According to reports in the Spanish media, he told police the women worked for his companies and had consented to have sex with him.
He denied mistreating them emotionally or physically and has also alleged that jewellery and works of art went missing from his home after he was arrested.
May 16 2014, 11:10