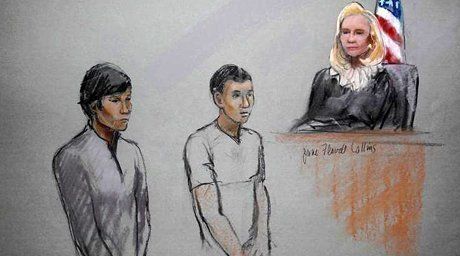 Dias Kadyrbayev and Azamat Tazhayakov. Photo ©REUTERSFederal District Court ruled that hearings against Dias Kadyrbayev and Azamat Tazhayakov, two Kazakhstani students who were arrested in the United States in relation to the Boston bombings case would take place separately, Tengrinews reports citing RIA Novosti.

Azamat Tazhayakov's hearing will take place on June 30th while Dias Kadyrbayev will face the court later on September 8th. The hearing of case Robel Phillipos, an American arrested together with the two Kazakhs, is scheduled to September 29th.

Despite their lawyers' request to move the hearings outside Massachusetts due to increasing media coverage and possible bias of the local jury, the court refused to do so.

Kazakhstani students Kadyrbayev and Tazhayakov are accused of obstructing justice in the Boston bombings case and might face still up to 25 years of imprisonment. Robel Phillipos, 19 y.o. is accused of perjured testimony and might face 16 years of imprisonment. None of the three were involved in preparation or execution of the bombings.
May 15 2014, 12:42