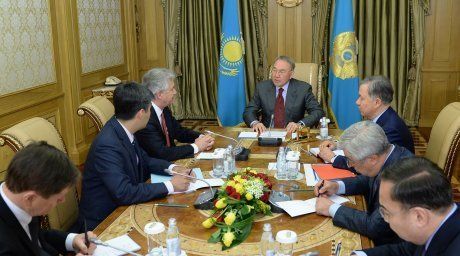 Photo courtesy of akorda.kz.Kazakhstan's President Nursultan Nazarbayev met US Deputy Secretary of State William J. Burns May 8, tengrinews.kz reports, citing the President's website.
At the talks the two sides dwelt on major directions of bilateral relations between the two nations, including in trade and economic and investments realms. Besides, they broached forthcoming accession of Kazakhstan into the WTO. The sides also exchanged their opinions on acute issues on the international agenda, including the situation in Ukraine and Afghanistan.
President Nazarbayev emphasized that Kazakhstan is ready to actively develop the bilateral ties with the USA. "Recently at the Hague I met US President. We detailedly discussed development of the bilateral relations and the current global situation. Besides, we issued a joint statement. I believe it's important to continue the bilateral cooperation at the high level", he said.
In his turn, William J. Burns reiterated the USA's long-term commitment to the strategic partnership with Kazakhstan.
May 11 2014, 11:31