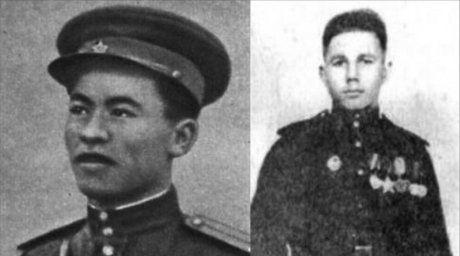 Rakhimzhan Koshkarbayev and Grigory Bulatov were the first who planted the Soviet banner over the Reichstag. According to Soviet textbooks, the sergeants Kantariya and Egorov were the first to plant the Soviet flag on the Victory day over the Reichstag on April 30, 1945, but only after a good spell the people of Kazakhstan learned the names of the first soldiers who stormed the Reichstag and put up the Victory Banner. They were Rakhimzhan Koshkarbayev from Kazakhstan and Grigory Bulatov from Russia, azh.kz reports citing tengrinews.kz.
"Grigory Petrovich Bulatov and I, we crept nearly 7.5 hours. I never thought that I will survive. When we were a few meters from the Reichstag, I unfolded the corner of the banner and wrote the number of our military division, just in case. We had no time to die, we shouldn't die, we have to deliver under any circumstances a red flag of storming to the Reichstag", - reminisced Rakhimzhan Koshkarbayev.
60 years after the Great Victory his heroic feat was proved with documents by the Institute of Military History under the Ministry of Defence of the Russian Federation. And before that fact the heroes who took the Reichstag according to the official history were Mikhail Egorov from Russia and Melitón Cantariya from Georgia.
Later it became known that they planted a banner on May 2, 1945 and under other circumstances. But on April 30, 1945 the lieutenant Koshkarbayev and the private Bulatov under the heavy fire crept from "Himmler's house" to the Reichstag (about 300 meters) and were the first to install the Soviet red banner.
Koshkarbayev's daughter Aliya reminisces that her father never told her about his heroic feat, only about the victory and what price the soldiers paid to win it.
Koshkarbayev's close friend -journalist, writer and public figure Kakimzhan Kazybayev did a lot in order to restore the historical justice, says his wife Orynsha Karabalina-Kazybayeva. In Astana one street is called in honor of Koshkarbayev and in Almaty a memorial plaque has been installed. But all this happened after the hero's death. And in 2001 Rakhimzhan Koshkarbayev has been awarded with "Halyk Kaharmany" (The Hero of the Nation) title - also long after his death in 1988.
Translated by Zeena Urynbassarova
May 10 2014, 15:07