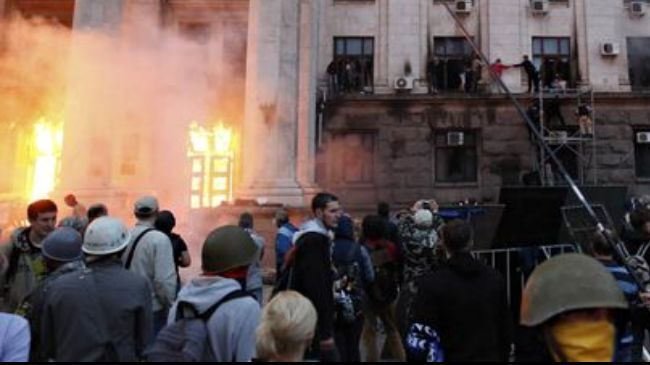 Fire at Trade Union House building in Ukraine's OdessaVictims of a major fire at a trade union building in the southern Ukrainian port city of Odessa have died instantly because of poisoning by an unknown substance, says a top Kiev official, azh.kz reports citing presstv.ir.
"Many people died by jumping from the fourth and fifth floors, while others died of carbon monoxide or burned to death…I was at the accident scene and saw a great number of dead people. It was evident that they died instantly, very quickly," Ukraine's First Deputy Prime Minister Vitaly Yarema told journalists at a briefing in Odessa on Saturday.
Police have detained more than 130 people in connection with the violence, charging them with participating in riots and premeditated murder.
Tensions in Ukraine heightened after the Autonomous Republic of Crimea declared independence from Kiev and formally applied to become part of the Russian Federation following a referendum in March.
The move led to pro-Russian protests in the eastern and southern provinces of Ukraine. The demonstrators keep occupying a number of government, police and other administrative buildings in over a dozen cities and towns in the eastern European country.
May 8 2014, 17:14