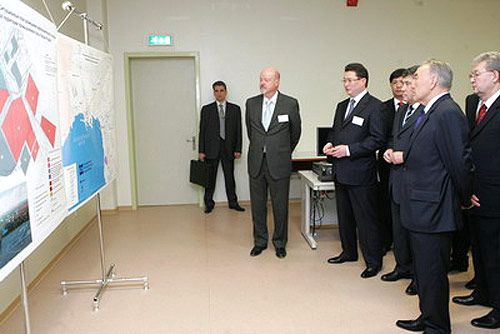 General director of SAT & Company, Nurlan Abduov, presents to the Head of State the plans for the development of KPI's integrated gas-based petrochemical complex. Credit:chemical-technology.comKazakhstan is set to construct a major petrochemicals complex in the Atyrau region that is designed to produce up to 800,000 tpa of polypropylene from 2016, azh.kz reports, referring to European Plastics website.
The €4.5bn project was ordered by the Kazakh government to increase the productive use of associated petroleum gas much of it currently flared off. The complex will be located close to one of Kazakhstan's main oil fields, Tengiz that will become the site's key feedstock source, according to the country's state owned oil producer KazMunaiGaz.
Due for completion in 2016, the first two stages of the complex will demand seven billion m3/year of feedstock gas and have a 500,000 tpa propylene capacity as well as the polypropylene, according to Raushan Sarmurzina, executive secretary of KazMunaiGaz's Council on Science and Technology.
A third complex stage, planned for 2016, is set to produce butadiene using feedstock from two other major Kazakh oil fields, Karachaganak in the country's north west and Kashagan field in the Caspian Sea. But this phase may not be finished till 2018 because of start up delays at Kashagan, she told the CIS Oil and Gas summit in Paris.
Meanwhile, the South Korean petrochemical firm LG Chem is also said to be planning to build an ethylene production plant in Atyrau. The company will construct it along with two Kazakh firms and production is also due to begin in 2016.
During May 2007 Kazakhstan's Energy and Natural Resources Ministry approved a feasibility study for the development of a gas-based petrochemical complex in the country's Atyrau Oblast, Karabatan region.
The Atyrau petrochemical project is being developed by Kazakhstan Petrochemical Industries (KPI) who will own and operate the complex. It is scheduled to be built in two stages. Sinopec Engineering will be responsible for the first stage completion by 2014, with LG Chem in charge for the second stage completion by 2016. The plant will be based around a cracker producing 1mtpa of ethylene. Other products include polyethylene and polypropylene.
A propane dehydrogenation unit is also planned. Initial investment costs were put at $5.2bn, but increased to $6.3bn due to rise in raw material prices. The facilities are expected to be built by 2014.
In March 2009, the Tengizchevroil joint venture signed an agreement with KPI to annually supply six to seven billion cubic metres of gas feedstock to the production plants.
Lummus Technology, a CB&I company, will provide certification and basic engineering for a propane dehydrogenation unit and a polypropylene plant as part of the contract signed with KPI in April 2011.
The design capacity of each unit will be 500,000tpa. The unit will utilise the CATOFIN technology to transform propane to propylene.
May 6 2014, 16:01