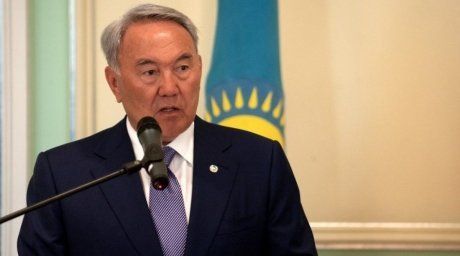 Nursultan Nazarbayev. Photo:AFPNursultan Nazarbayev appealed to Russian and Belarusian counterparts to take preparation of the Eurasian Economic Union agreement seriously and not to make hasty decisions, tengrinews reports.
"Unfortunately, there are some politicians who are, frankly speaking, too eager to whomp up the future economic union with default settings. Naturally, it would not benefit the union. I am not a supporter of such methods and quick decision-making. We all have to understand that we are not making a sparkling snowman here that would melt in the face of economic and geopolitical changes," the President of Kazakhstan said during the lecture at the Moscow State University.
He reminded that there was a number of such hasty decisions made in regards to integration and cooperation among CIS (post Soviet) countries that no one remembers now.
"We do not want to repeat (the mistakes)," Nazarbayev said.
The Head of the State stressed that thoroughness is the key in this line of work.
"We do not have a right to make empty declarations (…). I will be frank with you, miscalculations can ruin integration process and strip off the support of people from business circles (…). We aim to make the union a prime example for other countries," Nazarbayev added.
The President noted that there are people who are hoping to see the idea of the Eurasian Economic Union fail.
"In last few years, when the economic demand for our raw materials has heavily declined and our economy has slightly gone downhill, the integration process index has decreased, too. Some people where ready to say that it is the end of it. But it is not true. There will always be such twists and turns. But our main goal that we have to hold on to will in the end bring us to success. That is what we believe in," the President said.
He urged everyone to take these issues into consideration. "There should not be any illusions affecting our decisions," he said.
The President of Kazakhstan suggested that partners in the Eurasian Economic Union raise the bar and aim to be among the top three leading integrational unions in the world by 2050.

For more information see:http://en.tengrinews.kz/politics_sub/Eurasian-Economic-Union-is-no-sparkling-snowman-Nazarbayev-253247/
Use of the Tengrinews English materials must be accompanied by a hyperlink to en.Tengrinews.kz
May 3 2014, 18:06