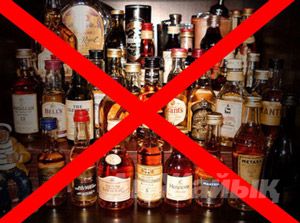 Kazakhstan Parliament approved a ban on the sale of strong spirits in Kazakhstan from 9.00 p.m. to midday. The ban on low-alcohol beverages will stay the same - from 3.00pm to 8.00am.
The Majilis deputies (Lower chamber of the Kazakhstan Parliament) approved the law "Amendments to some legislative acts of Kazakhstan on state regulation of production and turnover of alcohol products" in its second reading, azh.kz reports citing news agency Novosti-Kazakhstan.
The ban applies to spirits stronger than 30 degrees 'proof'. If the proof of alcohol is lower than 30 degrees, then the ban stays the same – from 3.00pm to 8.00am.
The ban on the sale of alcohol in Kazakhstan will spread to gas stations and buildings at healthcare and education territories.
Also the responsibility will be strengthened for selling alcohol to persons under the age of 21 and the amount of fine for illegal selling will be doubled.
In the document prepared by the committee on finance and budget the monitoring data of the World Health Organization are given, where Kazakhstan ranks 34th in 188 countries in alcohol consumption.
April 30 2014, 14:26