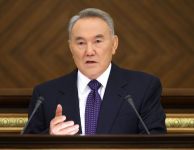 President of Kazakhstan Nursultan Nazarbayev commented on the situation in Ukraine delivering a speech at the Lomonosov Moscow State University on April 28, akipress reports.
The President noted that "it is painful" for him to see what is happening to Ukraine so far, saying it was the second former Soviet Union country with enormous industrial potential.
"Ukraine had much more opportunities for confident self-sustaining development than any other [former Soviet] country. But in two decades of its independence, the leadership of this country engaged more in politics rather than in developing economies and well-being of ordinary people," noted the President.
"We wish the Ukrainian people the soonest restoration of stability, harmony and unity. In any case, it is beneficial for Ukraine to have relations with our countries. This should be remembered," he concluded.
April 29 2014, 18:29