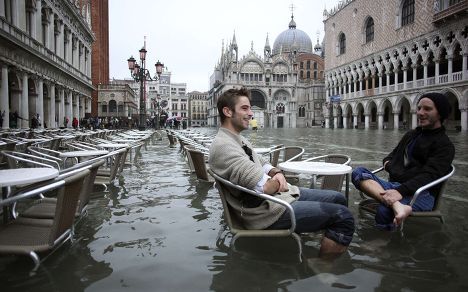 © REUTERS Manuel SilvestriHeavy rains and high winds left Venice almost completely flooded on Monday after surrounding sea levels rose to their highest in 22 years.
Ferry and water taxi services in the lagoon city were suspended and the mayor urged people to stay indoors. Tourists and residents waded across streets and popular sites like St. Mark's Square in thigh-high water.
Chairs of outdoor cafes could be seen almost fully submerged, while some luxury stores were also flooded.
Officials said more than 99 percent of the city was under water and that sea levels in the Adriatic rose 1.56 meters (61 inches) -- a level not seen since 1986. It was the fourth-highest level recorded over the past century.
"These are exceptionally high waters," Venice's Mayor Massimo Cacciari was quoted as saying by the Ansa news agency. "Don't venture out unless it is necessary."
The city will not ask for a state of disaster to be declared since the flooding did not cause any deaths or trigger the collapse of buildings, Cacciari said.
But the official overseeing Venice's architectural heritage warned the city was reaching its limits and said the water was receding at a worryingly slow rate.
The entire city -- founded on a collection of marshy islands in the 5th century and criss-crossed by canals -- suffers from periodic flooding caused by high tides.
A massive high tide swamped the city in 1966, destroying the homes of 5,000 people.
Italyhas begun a floodgate project aimed at stopping rising sea levels from destroying the city and the infrastructure minister on Monday promised 800 million euros will be allocated next year to the 4.13 billion euro project.
The project is expected to be completed by 2012 or 2013.
November 2 2012, 11:55