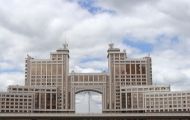 National oil company KazMunayGas informs that KMG Board of Directors adopted a decision on conclusion of a major deal on withdrawal from KMG Kashagan B.V. shareholders' structure, azh.kz reports referring to the press release, published on company's website.
"According to the decision of the Board of Directors of the NC KazMunayGas (The protocol # 2/2014, item 1), the decision is made about the conclusion by KMG of the deal on withdrawal from KMG Kashagan B.V shareholders' structure. The amount of the deal equals to 25 and more percent of all assets owned by KMG. KMG has an interest in striking this major deal – the Agreement about contribution and transference of KMG Kashagan B. V's shares between KMG, CooperatieveKazMunaiGaz U.A. and KMG Kashagan B. V., reads the official press release. (http://www.kmg.kz/press/company_news/press_release/? SHOWALL_1=1)
This decision was subject to approval by the Sole shareholder of KMG – "Samruk-Kazyna" JSC. The issue of withdrawal from "KMG Kashagan B. V." shareholders' structure is governed by item 3 of article 180 of the Kazakhstan Law "On state property". The Board of Directors of Sumruk-Kazyna JSC was adopted on April 25 2014 (the Protocol # 108)," reads the press release.
Private company with limited liability "KMG Kashagan B. V." is part of the group of companies of Samruk-Kazyna Fund. The Company holds a 16.81% participatory interest in the North-Caspian Consortium Project.
This 100% KMG "daughter company" was established on October 5, 2005 in accordance with the laws of the Netherlands and in Astana it only has its branch.
According to the 2013 plan for purchases of goods, works and services, posted by company on its website, the company spends over 840 million tenge only for office services and other office expenses in Kazakhstan.
Besides "KMG Kashagan B.V." the interests of "KazMunayGas" in Kashagan project through the Ministry of Oil and Gas.are represented by "PSA" LLP - another KMG daughter company. "PSA" LLP was established in 2010 and it also represents the interests of Kazakhstan party in Karachaganak project in the West Kazakhstan Oblast.
The Kazakhstan mass media are perplexed, why KMG requires to delegate the management of 16,8% shares in Kashagan project simultaneously to its two "daughters".
April 29 2014, 16:33