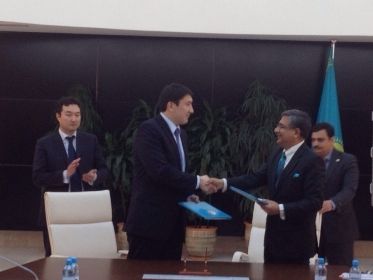 Protocol has been inked between Kazakhstan and India for exploration of Caspian Abai oil block. Photo:aninews.inKazakhstan has offered India an opportunity to explore Caspian Abai oil block, azh.kz reports citing in.news.com. The offer was made at the 11th Kazakhstan-India Inter-Governmental Commission (IGC) meeting that took place on April 24 and 25 in Kazakh capital Astana.
The Kazakh delegation was led by the country's Vice-Minister of Oil and Gas, Mr. Magzum Mirzagaliev, while the Indian side was led by Petroleum Secretary Saurabh Chandra.
Both sides inked a protocol during the of IGC meeting under which they agreed to consider broadening bilateral cooperation in the production and development of oil and gas fields in Kazakhstan.
Indian experts have also proposed to consider the possibility of cooperation in the field of renewable energy, as well as atomic energy for peaceful purposes. Both countries said they were interested in increasing tourism cooperation and further development of cooperation in science and technology.
The Caspian Abai is an offshore oil block in Kazakhstan's section of the Caspian Sea. The oil field's reserves are estimated to be 387 million tons (2.8 billion barrels) of oil equivalent. The offshore oil field is located in the northern part of the Caspian Sea 65 kilometers from the shore at the depth of 8-10 meters.
"Kazakhstan has oil and gas, while India has the market. Kazakhstan has offered us Abai oil block and our company will study all the available information concerning the block and notify the government of Kazakhstan of its decision. We plan to finish it by March of 2015," Chandra said.
ONGC Videsh company owns a 25 per cent share in Satpayev oil block. The Satpayev oil block is an offshore field in the Northern Caspian Sea. Its potential reserves are estimated at 1.8 bilion barrels. First oil from the field in expected in 2020.
However, one of the biggest handicaps to expanding Kazakh-India bilateral trade is the lack of direct connectivity. Kazakhstan has already commissioned its portion of the railway route Beineu -Etrek - Gyzylgaya - Gorgan (Kazakhstan-Turkmenistan-Iran) as part of the Inernational North-South Transportation Corridor.
In May last year, Kazakhstan's President Nursultan Nazarbayev and his Turkmenistan counterpart Gurbanguly Berdimuhamedov opened the Bolashak (Kazakhstan) - Serkhetyaka (Turkmenistan) railroad crossing, which is set to become one of the key links in the growing network of railways and road connections restoring the ancient Silk Road in the modern conditions.
Kazakhstan hopes that Iran and Turkmen partners will commision their respective parts of the route in 2014 to ensure quicker access to the Gulf ports of Iran.
April 28 2014, 17:41