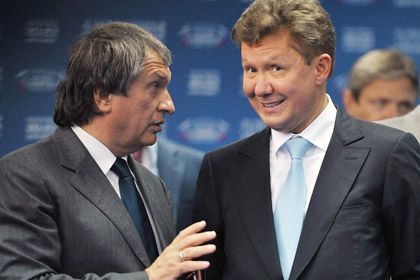 Rosneft CEO Igor Sechin and Gasprom CEO Aleksei Miller. Photo: Kommersant.New American and European sanctions imposed Monday against Russia for its actions in Ukraine, including measures against defence industry complex, banks, the senior management of Rosneft and Gasprom and other cronies of President Putin, azh.kz reports, citing American media.
The European Union is expected to impose sanctions Monday on about 15 Russian officials who are believed to be undermining democracy and creating chaos in Ukraine, according to the Western diplomats. The sanctions will include asset freezes and travel bans, cnn reports.
The list might contain Putin's cronies, such as Rosneft's CEO Igor Sechin and Gasprom's CEO Aleksei Miller.
According to the NewYork Times the US, unlike EU, might impose sanctions against a number of Russian industries. Obama's advisors are insisting on such steps, although Obama himself, so far, is against such approach.
The EU is not expected to impose sanctions on Putin cronies in part because the European judiciary system has a much higher bar in terms of applying the law, the diplomats said to cnn.
Judges are not able to look at intelligence to sign off on the sanctions, they said. One Western diplomat said there was also some division within the EU as to whether sanctions against Putin's cronies should be imposed.
Several European countries are also concerned their economic interests would be greatly affected with such sanctions. Additionally, some countries feel more space should be given to diplomacy before such measures are considered, the diplomat said.
Neither the United States nor EU is ready to impose sanctions on Russian industries, like the energy sector, both U.S. officials and Western diplomats said.
However, they said the United States and EU are jointly preparing for sector sanctions that could be imposed in the near future if Russia does not take steps to ease the tensions in Ukraine. Diplomats said the sectors that could be affected include energy, finance and timber.
The first sanctions against Russia, as the rusult of Crimea annexation, have been imposed by White House in March. The undertaken measures blocked bank accounts and banned entry to senior government officials and businessmen. E.g. "Rossia" bank, in actual fact, was deprived from operating overseas. Similar sanctions were imposed by the European Union.
April 28 2014, 11:29