By Azamat Maitanov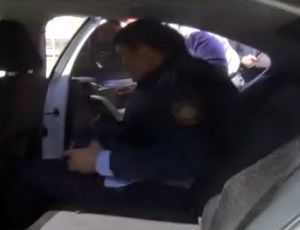 Screenshot of video where the police officer was detained red-handed. The source:Financial police of Atyrau Oblast.
The story with the arrest and then escape of former Issatai District Police Chief Altynbek Koubaydullin from the hospital has unexpectedly ended tragically.
Informal sources told Ak Zhaik newspaper that yesterday, April 27, a body of a male, later identified as 32-y.o police major Altynbek Koubaydullin, was found in the afternoon at a construction site at Gurievskaya street (near the local trade union building).
The early version is a suicide by hanging. The surprize death of the police officer has already generated many gossips up to the version that he might have been hung or even shot dead.
Things should become clearer after a forensic medical examination.
To recall, on April 21, Financial Police officers jointly with Internal Security Department "detained the chief of Issatai District Police Department when receiving a bribe (250 thousand tenge and 3 kg of sturgeon caviar) from Mr. N. for providing protection and inactions when the latter was catching sturgeons" (see "Arrested district police chief escaped from hospital").
The deceased police chief had a wife and three under-age children.
April 28 2014, 09:37