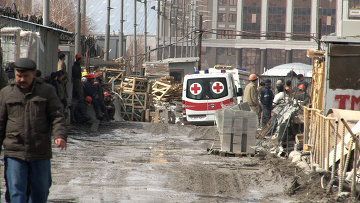 Photo:IA-Novosti Kazakhstan.Construction activities at Korkem residential compound in Astana has been suspended for two days due to collapse of scaffolding, azh.kz reports.
The head of the construction company said that construction activities has been suspended for 2 days. Investigation will be carried out to determine the causes and circumstances of the accident. According to preliminary data, 18 people were injured. All of them are citizens of Kazakhstan. They were hospitalized with different bodily injuries. Two of them are in critical condition. Two witnesses of the collapse received psychological aid.

"Aibyn Constraction Group" is the developer of Korkem residential compound. The company reps infromed that all injuered will receive material compensation.
The initial inspection of the place of accident showed no violation of safety rules. The fallen scaffolding structures were new and had required quality certificates. Personnel involved in facade works had undergone necessary training, said the company rep.
April 25 2014, 16:08