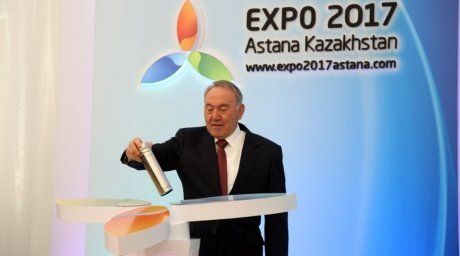 Photo:tengrinews.President Nazarbayev has given a start to construction of the EXPO-2017 exhibition main venue near the Nazarbayev University in Astana, tengrinews reports.
"Today we have launched construction of the EXPO-2017 exhibition facility, the most important venue. For many years I was privileged to give start to many projects in Astana and the city is blooming. The 20th anniversary of our capital (Astana) coincides with the opening of the EXPO-2017. There has not been such a grand venue before (in Kazakhstan). It will literally become a new center of Astana," the President said at the ceremony.
Future Energy is the theme of the EXPO-2017 in Astana and "most of the venues will be supplied with green energy, with solar and wind energy," Nazarbayev added.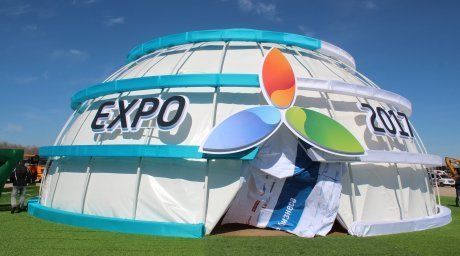 According to the President, besides the bowl-shaped center, the complex will have a total 4 thousand apartments, a hotel, a congress hall and a roofed street stretching from the University to the center of the city.
"The roofed street will have entertainment and shopping venues. The main venue will be constructed in the form of a 100-meter tall semi-sphere of 80 meters in diameter. International pavilions will be set around the main building," the President of Kazakhstan said.
He added that the upcoming EXPO-2017 and the new venue would create a lot of jobs and new business opportunities for small and medium-sized businesses in Kazakhstan.
"They will have to rise to a high level and showcase high quality and skills. I congratulate you all on with the day we start the work. This is exactly the day when we start a grand project to present Kazakhstan and Astana in a new light to the world," Nazarbayev said.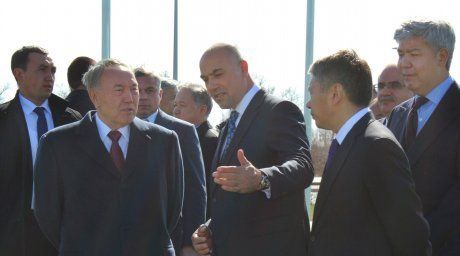 The President added that the project would require a lot of volunteers. "In addition to the exhibition we have to showcase our multinational culture, history and art. All of these require great work from all of us: the state, the Astana Akimat (municipal authorities), our Ministries and departments. I wish all of us good luck so that we would successfully reach our goal. It is a grand, challenging project, but we will succeed," Nazarbayev said.
The EXPO complex with employ state-of-the-art architectural solutions and advanced technologies.
The total area of the exhibition complex is 174 hectares and the total floor areas of the venues will exceed one million square meters, Astana EXPO-2017 JSC, the state-run Kazakhstan company in charge of all the EXPO preparations, said.
The national company presented the schedule of work to the President. The main part of the construction works is planned for May 2014 - December 2016.
Astana won the right to host EXPO-2017 on November 22, 2012. During the anonymous voting of the International Exhibitions Bureau in Paris, Kazakhstan's Astana received 103 votes and Belgian ‪Liège‬, Astana's main competitor, had only 44 votes.

For more information see:http://en.tengrinews.kz/politics_sub/Nazarbayev-kickstarts-construction-of-EXPO-2017-venue-253150/
Use of the Tengrinews English materials must be accompanied by a hyperlink to en.Tengrinews.kz
April 25 2014, 15:32