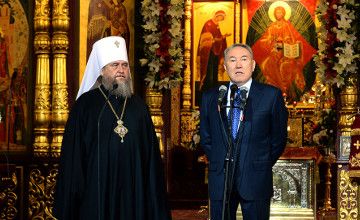 Nursultan Nazarbyev and Alexander the Metropolitan of AstanaPresident of Kazakhstan Nursultan Nazarbayev visited the Saint Ascension's Cathedral in Almaty on April 21 to congratulate the Orthodox Christians on Easter, the President's press service reported.
Alexander the Metropolitan of Astana and Kazakhstan handed the President the Easter egg.
In his congratulatory speech, President Nazarbayev noted the holiday's importance in Kazakhstan as it unites the people in the country, thus becoming a tradition.
Nazarbayev wished the Christians and people of Kazakhstan good health, well-being and prosperity.
In his turn, Alexander the Metropolitan expressed his gratitude to the President for warm congratulations.
April 21 2014, 11:08