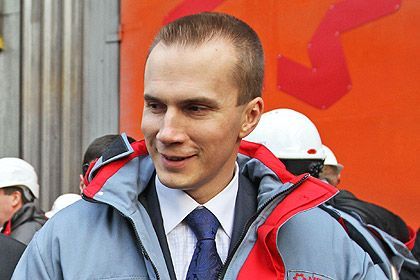 Oleksandr Yanukovich. Photo: KommersantThe Ukrainian Security Service has placed ousted President Viktor Yanukovych's eldest son on a wanted list, azh.kz reportdc on Friday citing lentra.ru. Oleksandr Yanukovych is suspected of forgery, issuing and using of fraudulent documents that led to drastic consequences. He was seen in Kiev for the last time on March 23 and his current whereabouts are unknown.
Oleksandr Yanukovych is one of the richest men in Ukraine, a major shareholder of the MAKO Group of companies, with his overall wealth estimated at up to $500 million. According to Ukrainian media, the son of the ousted president owns a number of energy, gas and coal producing enterprises, a construction company, two wineries and the bank Ukrbusinessbank.
Investigation concerning the Yanukoviches on charges of money laundering started on February 28 in Geneva. On March 6, EU and Canada declared that Olexander Yanukovych with his father and brother were entered into the lists of influential Ukrainians against whom financial sanctions have been initiated.
In February, the Ukrainian parliament backed by far-right movements ousted President Viktor Yanukovych, put him on an international wanted list on mass murder charges and scheduled an early presidential election for May 25.
April 18 2014, 17:31