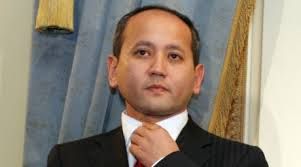 Mukhtar AblyazovThe UK has decided to revoke the asylum status it granted in 2011 to Mukhtar Ablyazov, a former banker accused of fraud and one of Kazakh president Nursultan Nazarbayev's main political opponents, following intense lobbying from the central Asian state, ft.com reports.
Mr Ablyazov, former chairman and main shareholder of Kazakhstan's BTA Bank, which was nationalised in 2009, was informed in January of the UK Home Office's intention to cancel his refugee status.
Lawyers for Mr Ablyazov, who is in prison in France where he is fighting a protracted legal battle against extradition, accuse the UK of violating international laws protecting refugees by engaging in communications over his refugee status with his country of origin, and by refusing to release information to him about those contacts. They say documents they have obtained suggest David Cameron, UK prime minister, saw the issue as an obstacle to better relations with Kazakhstan.
"After properly granting refugee status to Mr Ablyazov in 2011, the United Kingdom now seems to have fallen victim to an insidious misinformation campaign. The decision taken is not only unlawful and ungrounded, but the Home Office is not revealing the truth about it," Peter Sahlas, lawyer for the Ablyazov family, told the Financial Times in a statement.
Documents obtained by Mr Sahlas and provided to the Financial Times show that two London-based law firms, Reed Smith and Ronald Fletcher Baker, are acting on behalf of the Kazakhstan government in lobbying the UK government as well as the Serious Fraud Office, which was pressed to open a criminal investigation into Mr Ablyazov.
A recent memo by Reed Smith cites a private UK investigator hired by Kazakhstan as saying the UK decision to revoke Mr Ablyazov's refugee status was "being driven by the home secretary, Theresa May, as part of a wider 'clean-up' of asylum decisions that have been taken in recent years in respect of individuals who have abused the system and rules".
Mr Ablyazov's status "is considered to be a problem for UK-Kazakh relations and there is a pro-Kazakhstan push by David Cameron, who is keen to drive the relationship forward", the memo says.
Joined by business leaders, Mr Cameron became the first UK prime minister to visit Kazakhstan last year, praising it as a "dynamic" country. Mr Cameron signed contracts worth £700m and said the UK should be in "prime position" for new deals worth £85bn over the next few years.
Reed Smith did not respond to questions from the Financial Times, while an extradition expert for Ronald Fletcher Baker said she was "not in a position to discuss the matter". The Kazakhstan government did not respond to requests for comment, and the UK's Home Office on Tuesday said it could not comment on individual cases.
Mr Ablyazov, a former energy minister and opposition party leader, faces criminal charges in Kazakhstan related to alleged fraud at BTA Bank estimated by the government at $15bn, as well as involvement in an organised criminal group and money laundering. Mr Ablyazov, who accuses the government of illegal nationalisation of his bank, denies the charges, which he says are politically motivated.
Mr Ablyazov was originally given 10 days to respond to the Home Office's declaration of its intention to revoke his asylum status. Submissions by his lawyers resulted in an extension to mid-April and they say they will challenge cancellation of his status, if confirmed, in the UK courts.
Mr Ablyazov, who had been previously jailed in Kazakhstan for his political activities, fled his country in 2009 shortly before his BTA Bank was nationalised. The UK granted him refugee status in July 2011 after two years of deliberations and that year the London Metropolitan Police warned him of a plot to kill or kidnap him.
In the meantime BTA Bank, under government control, pursued Mr Ablyazov in the English High Court in one of the biggest and most complex civil fraud cases heard in the UK, as the bank sought to retrieve $6bn alleged to have been misappropriated. Mr Ablyazov fled the UK in February 2012, shortly before a High Court judge found him guilty of contempt of court and sentenced him to 22 months in prison.
BTA Bank has since secured default judgments against Mr Ablyazov for nearly $4bn, of which it says it has retrieved "hundreds of millions of dollars".
Trailed to France by investigators hired by BTA Bank, Mr Ablyazov was arrested by French police last July in response to a request by the bank. Kazakhstan, which sought his arrest, does not have an extradition treaty with France. A month earlier Italy deported Mr Ablyazov's wife and daughter from Rome to Kazakhstan, assisted by Kazakh diplomats in the Italian capital. Italy later said after a government inquiry that the deportations were a mistake and Kazakhstan allowed them to return to Rome.
Russia and Ukraine asked France for Mr Ablyazov's extradition on fraud-related charges and a court in Aix-en-Provence agreed in January, giving priority to Russia's request.
Amnesty International was one of several human rights organisations that called on the French authorities not to send him to either country, saying there was a real danger he would "eventually end up in Kazakhstan, where he will be at risk of torture and other ill-treatment".
This month France's Cassation Court found in favour of Mr Ablyazov's appeal against extradition and annulled the lower court's decisions. It ordered the case to be heard again, assigning it to a court in Lyon, in a process that could take months.
Mr Ablyazov's legal team says that a UK decision to cancel his refugee status could remove one of the impediments to his eventual extradition from France.
In a statement from his prison cell in Aix-en-Provence, Mr Ablyazov, 50, told the Financial Times: "I have the deepest respect, Mr Cameron and Ms May, for what your country and your institutions stand for. Please recognise that you and your political institutions and courts are being manipulated by a kleptocratic dictator."
Arguing that he had devoted his resources to fighting for democracy and economic reform and to ensure "that my assassinated political allies did not die in vain", Mr Ablyazov said: "I can only wonder what [president] Nazarbayev and his people might have promised you in exchange for my head".
This week Sayeeda Warsi, a UK Foreign Office minister, visited Astana, Kazakhstan's capital, where she said she encouraged the central Asian state's sovereign wealth fund to invest in the UK, while also discussing trade, the crisis in Ukraine and human rights.
April 18 2014, 16:04