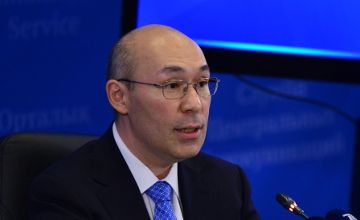 Kairat KelimbetovThe net outflow of deposits following sms attack in many Kazakhstani banks amounted to 250 billion tenge, following a misleading sms attack alleged imminent bankruptcy, said Kairat Kelimbetov, chairman of the National Bank during the press conference in Astana.
"The net outflow, I do not mean deposits transfer from one bank to another, but their withdrawal from the system amounted to 250bn tenge and 100bn were turned back, i.e. almost 40% turned back in less than 2 months," he said.
"We believe this money will get back as I think keeping money at home is unwise. It is not safe," he added.
In his words, by the results of the first three months of the year tenge deposits increased by 6%.
Following the 20% currency devaluation in February that there had been a wave of sms spreading information on allegedly approaching bankruptcy of Allaince, Kaspi and Center Credit.

Use of the Tengrinews English materials must be accompanied by a hyperlink to en.Tengrinews.kz
April 18 2014, 10:14