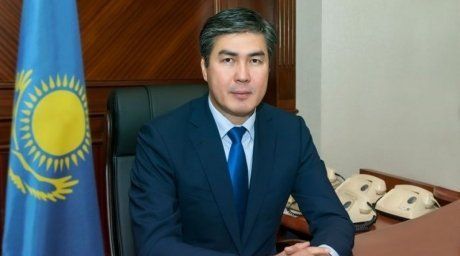 Aset Issekeshev. Photo courtesy of primeminister.kzKazakhstan and Bahrain have signed a memorandum on cooperation in aluminum production at the Bahrain-Kazakhstan: Strategic Partnership business forum, tengrinews reports.
At the business forum, Kazakhstan's Minister of Industry and New Technologies Aset Issekeshev met Hassan Abdulla Fakhro, the Minister of Industry and Trade of the Kingdom of Bahrain.
At the business forum, Hassan Abdulla Fakhro emphasized similarity between Kazakhstan and Bahrain.
"We have to find more opportunities to strengthen our friendly ties in trade. Our countries, despite the difference, have many things in common. Economy of our countries depends on natural resources and we share a number of positions at the global market. I believe that his Majesty's visit would boost the development our countries," the Minister of Industry and Trade said.
Aset Issekeshev noted that the memorandum on aluminum production was mutually beneficial.
"Aluminum is processed in Bahrain while Kazakhstan has large aluminum reserve and we produce 250 thousand of metallic aluminum. We want to process our aluminum. We are planning to create a special zone for aluminum processing in Pavlodar, " Issekeshev said.
Kazakhstan's Minister also mentioned other areas of possible cooperation between Kazakhstan and Bahrain.
We want to attract more investments and develop our industry, the Kazakhstan Minister said. "At this stage, agriculture has the highest potential for our cooperation. Kazakhstan has a great potential for production and export of grain, as well as meat," Issekeshev added.
According to Issekeshev, Kazakhstan has initiated a program to develop tourism in the country. "We are planning to start a number of projects in the western, eastern and northern regions of the country. We would like to discuss our cooperation in this sector, too," he said.
Referring to President Nazarbayev's initiative to promote Islamic banking in Kazakhstan, Issekeshev expressed interest in Bahrain's experience with Islamic banking and reminded that Kazakhstan was intending to become a regional hub of Islamic financing.
"I believe that as a part of the visit (to Kazakhstan) we have to create a foundation for cooperation. We are willing to support you and your initiatives in our economic cooperation," Issekeshev concluded.
Earlier this week, Sheikh Ḥamad ibn Isa Al Khalifah arrived to Kazakhstan on his first official visit and met with President Nazarbayev.

For more information see:http://en.tengrinews.kz/politics_sub/Kazakhstan-to-cooperate-with-Bahrain-in-aluminum-production-252936/
Use of the Tengrinews English materials must be accompanied by a hyperlink to en.Tengrinews.kz
April 17 2014, 12:53