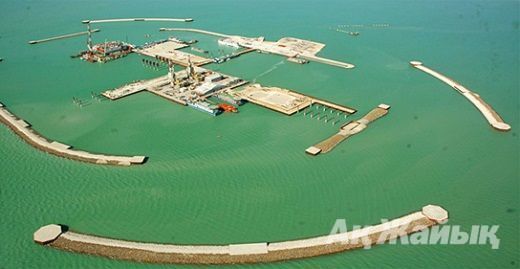 The Kashagan field in the Kazakhstan sector of the Caspian Sea may not achieve the commercial production in 2014, said Erbolat Dosayev, the Minister of Economics and Budget Planning of Kazakhstan, azh.kz reports, citing IA-Novosti-Kazakhstan.
"In 2014 the risk of not meeting the commercial production target of 2.4 million tons of crude still remains at Kashagan. In this regard additional activities and negotiations with major subsoil users will be conducted with the purpose of possible increase of production and oil export from other fields, in the volume that is not less than 1.5 million tons", - he said told on Monday at the briefing in Astana.
According to Dosayev, on April 17 the government is meeting with major investors of Kashagan project to discuss the ongoing activities. "They have to offer a detailed plan until the end of the year,"- explained the minister.
Commercial production at Kashagan started September 11, 2013. However, it was suspended 2 weeks later due to a gas leakage. The production process was resumed shortly. However, another leakage was detected in October.
Production on Kashagan was stopped in September of last year in two weeks after the beginning because of leakage of gas. Almost right after production renewal in October, 2013 other leak was found.
Initially, it was supposed that production at Kashagan will amount to 8 million tons of crude in 2014 and rise up to 12 million tons in 2015, that would allow Kazakhstan to become of 10 largest oil-producing countries.

For more information see:http://en.tengrinews.kz/markets/Kazakh-Minister-of-Economic-Affairs-on-Kashagan-26434/
Use of the Tengrinews English materials must be accompanied by a hyperlink to en.Tengrinews.kz
April 14 2014, 16:11