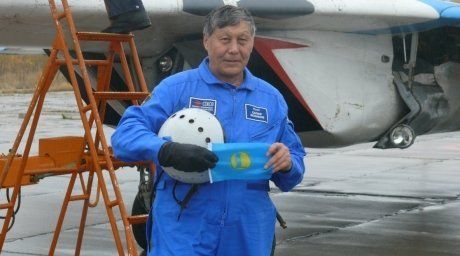 Sapar Iskakov, 70, is carrying the flag of EXPO-2017 across the globe. (From S. Iskakov's personal files)In a unique citizen's initiative, Sapar Iskakov, 70, a tireless entrepreneur from Kazakhstan, has been carrying the flag of EXPO 2017 across the globe to promote the forthcoming international exhibition that the Central Asian country is hosting in its capital Astana, Business-Standard reported.
The Foreign Ministry of Kazakhstan has been arranging meetings for Iskakov in various countries to speak about Kazakhstan, Astana and the EXPO 2017. He is travelling at his own expense and has chosen not to disclose the cost of the journey.

"The financial aspect is not important; we should be more interested in the economic and political resonance of this journey, and especially in the promotion of the EXPO-2017. If I succeed in attracting at least one tourist from Costa Rica or Papua New Guinea to Kazakhstan, I will contribute to development of tourism and promotion of our country's image," Iskakov says.

Kazakhstan considers EXPO 2017 as its most prestigious event, since Astana has been selected to host the international exhibition in the face of bitter competition from the Belgian city of Liege.

EXPO 2017 will be exclusively devoted to the energy of the future, in which area the resource-rich Kazakhstan tops in the world today.

Expo 2017 will indeed be the first international exposition to be held in Central Asia and the CIS, for the first time in 160 years of EXPO's history.

In fact, Kazakhstan President Nursultan Nazarbayev congratulated the citizens of the country on the victory of Astana's bid to host the unique event.

According to Iskakov, he is healthy enough to make this trip. He has so far visited more than 100 countries and seen every single continent in the world. Iskakov has planted a Kazakhstan flag at both the South and North Poles when he traveled there as part of an international group. He has also made a flight to the stratosphere to reach a height of 22, 000 meters.

Iskakov is funding a range of expeditions around Kazakhstan, to Middle East, Mongolia, North Africa and Europe. He has been awarded the Person of the Year title three times.

Iskakov is a truly distinguished citizen of Kazakhstan, being a businessman, engineer-builder, Maecenas, patron of the arts and an expert and connoisseur of classical and folk music.

Born in the village of Amangeldy in the Torgai area of Kazakhstan, Iskakov graduated from Karaganda Polytechnic Institute in engineering and construction. He progressed from construction manager to become President of Architecture Project Institute and CEO of a construction company.

Success in business has allowed Iskakov to support numerous charitable causes and to sponsor many cultural programs. Right from his early years as a businessman, Iskakov set aside up to 30 percent of his annual net profits to various charitable causes.

His first project was a restoration of an entire village lost in the years of starvation (1931-32) in Torgai region of Kazakhstan. A village that used to be abandoned by native population with the help of Iskakov experienced a dramatic development becoming economically self-sustainable agricultural center.

Today, Iskakov supports dozen of cultural projects annually. He supported sportsmen who participated in the 2008 Olympic Games. Last year, he commissioned Karl Jenkins to produce a work called TLEP named after his ancestor, the celebrated Kazakh composer and kobyz player, Tlep Aspantaiuly. A world premier of TLEP took place at the Royal Albert Hall on April 17, 2006. With the help of TLEP, Sapar Iskakov wishes to promote Kazakh music around the world.
April 14 2014, 12:57