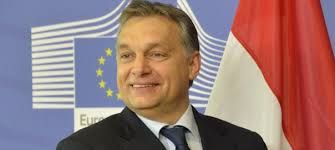 Viktor OrbanHungarian Prime Minister Viktor Orban and leader of the Fidesz party declared victory in Sunday's elections saying the vote showed that Hungary was the most united nation in Europe, euronews reports.
The 51-year-old claimed the result was confirmation of his government's policies to create jobs, support families and fight for national sovereignty.
"One thing is for sure, Fidesz and the Christian Democrats have set a European record, among the European parties we got the biggest support. This is a European record," he said as he took to the podium on Sunday.
'Hungarians have said no to leaving the European Union, and have reinforced that Hungary should stay in the EU, but only if they have a strong national sovereign government," he added.
It's understood the President of the European Commission Jose Manuel Barroso phoned the prime minister to personally congratulate him.
Viktor Orban signed off from his supporters with one of his election rallying calls – "Go Hungary – Go Hungarians."
April 7 2014, 11:16