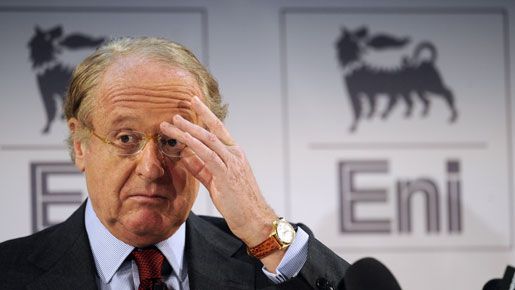 Paolo Scaroni, Eni CEOAn Italian court on Monday found Paolo Scaroni, chief executive of the biggest Italian company by market value, guilty of a crime of "inadequate environmental standards" while he served as CEO at utility Enel ENEL.MI -0.19% SpA. It sentenced him to a three-year prison term, wallstreet journal.com reports.
The verdict casts further doubt on whether the new government will renominate Mr. Scaroni for his present job as head of oil and natural-gas company Eni ENI.MI -0.16%SpA. His term expires in May.
The court in the northeastern city of Rovigo also banned Mr. Scaroni from holding public office for five years. He was found guilty of failing to prevent air pollution at a coal-burning plant at nearby Porto Tolle.
Mr. Scaroni said in a written statement that he will appeal the verdict.
"I am totally uninvolved in this matter and I will immediately appeal," he said. "I am speechless as a result of this ruling." He added that the Enel plant always adhered to public requirements.
Under the government's drive to clean up politics and reduce corruption, it has asked state-controlled companies such as Eni and Enel in recent days to introduce bylaws at their next shareholder meetings to ban board members found guilty of certain crimes, as well as those who are indicted.
In April, the government of Prime Minister Matteo Renzi, which has been in power just over a month, must nominate its candidates to head Italy's leading state-controlled companies to new three-year terms, and investors will be watching. Most state-controlled companies hold their annual shareholder meetings in May and June.
Eni said it had no further comment on the verdict. Enel declined to comment.
Mr. Scaroni served as Enel's CEO from 2002 until 2005, when he went to head Eni.
Mr. Renzi on Monday declined to comment on Mr. Scaroni's sentence. As for whether the new rules on board members apply to environmental crimes, a representative for the economy ministry declined to comment. The ministry effectively controls Eni.
In Italy, defendants who are convicted typically avoid serving prison terms for sentences of three years and less, under rules aimed at easing prison overcrowding.
April 2 2014, 10:35