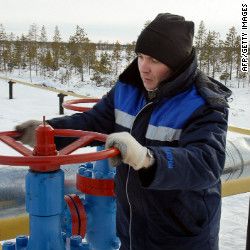 Russian energy giant Gazprom announced a sharp increase Tuesday in the price it charges Ukraine for natural gas, in a move that will heighten pressure on the interim government in Kiev, cnn reports.
Starting Tuesday, Ukraine will be charged $385.50 per 1,000 cubic meters of gas, up from the previous rate of $268.50, Russian state news agency RIA Novosti quoted Gazprom's chief executive Aleksey Miller as saying.
The move ends a discount that was agreed before Ukraine's Moscow-leaning President Viktor Yanukovich was ousted in February following months of street protests.
Amid the political tumult that ensued, Russia annexed Ukraine's southeastern Crimea region and tensions between the neighboring nations are high.
U.S. Secretary of State John Kerry and NATO foreign ministers are meeting Tuesday in Brussels, with the Ukraine crisis expected to be high on the agenda.
The NATO foreign ministers are expected to discuss a new series of so-called confidence building measures for Eastern European allies who feel threatened by Russia's expansionist actions.
Potentially easing the diplomatic standoff with the West, Russian President Vladimir Putin told German Chancellor Angela Merkel on Monday that he'd ordered a partial withdrawal of Russian troops from his country's border area with Ukraine, Merkel's office said.
But concerns remain high that Russia, which U.S. officials last week said had some 40,000 troops near the frontier, might seek to enter eastern Ukraine.
U.S. State Department spokeswoman Jen Psaki said Monday that if reports about Russia removing troops from the border were accurate, "it would be a welcome preliminary step."
She also urged Russia to engage in a dialogue with the government in Kiev to deescalate the situation. Moscow does not recognize the new government in Kiev, saying Yanukovych was ousted in an unconstitutional coup.
Gazprom's newly announced gas price hike will only increase the pressure on Ukraine's interim government as it seeks to stave off economic collapse.
Ukraine, which is heavily reliant on Russia for energy, is also $1.7 billion in arrears in its payments for gas already supplied, Miller said, according to RIA-Novosti.
The International Monetary Fund last week agreed to lend Ukraine up to $18 billion over the next two years in return for a package of reforms, including to its energy market.
Kiev has been running dangerously low on cash to pay for imports and service its debts since the ousting of Yanukovych, which killed off a $15 billion financial lifeline from Russia.
April 1 2014, 13:17