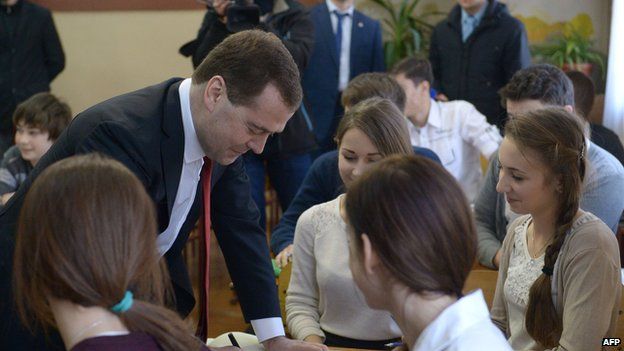 The Russian prime minister visited a school in Simferopol on Monday morningRussia's Prime Minister Dmitry Medvedev is visiting Crimea - the most senior Russian official to travel there since it was annexed from Ukraine, bbc reports.
Mr Medvedev announced that the region would become a special economic zone, with incentives for businesses.
The Russian government says it is creating a new ministry to deal with Crimea and Sevastopol.
Moscow's annexation of Crimea earlier this month has sparked international condemnation.
Ukraine's foreign ministry described the Russian prime minister's visit as a "crude violation" of the rules of the international community, according to the Reuters news agency.
Mr Medvedev, leading a delegation of government ministers to the peninsula's main city Simferopol, said that no-one in Crimea should lose anything in the accession to Russia, according to the Russian government's Twitter feed.
Pensions and public sector salaries would be increased, it added.
The government also announced health insurance for Crimea residents and the introduction of Russian educational standards in schools.
The Russian prime minister described the development of Crimea as a "state priority".
"I am not going to conceal it: the resolution of this task will require very significant concentration of efforts," he said in an address broadcast on Russian state television.
'Illegal and illegitimate'
Meanwhile, four hours of "frank" talks on Sunday between the US Secretary of State John Kerry and his Russian counterpart, Sergei Lavrov, ended without a breakthrough.
Mr Kerry told reporters in Paris that the US still considered Russia's takeover of Ukraine's Crimea region to be "illegal and illegitimate".
He said he had stressed that no decision on Ukraine's future could be made without Kiev's involvement.
Earlier Mr Lavrov said Ukraine should become a loose federal state - a suggestion Kiev rejects as an attempt to dismember the country.
Russia's decision to take over Crimea - following the ousting of Ukraine's pro-Moscow President Viktor Yanukovych after months of protests - has triggered a crisis in relations between Russia and the West.
The US and the European Union have imposed sanctions on members of President Vladimir Putin's inner circle and other officials. Russia has retaliated with its own sanctions on US lawmakers.
March 31 2014, 18:54