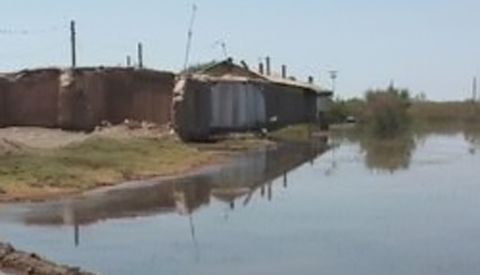 Four persons died and 125 rescued during flood in Kokpekty settlement in Karaganda Oblast, azh.kz reports citing the RoK Ministry of Emergency Situations.
According to the department, due to big inflow of water and lack of necessary capacity of lock-chamber on a Kokpekty dam reservoir, at 18:30hrs on March 30 local overflows over a dam body took place.
"At 1:30am on March 31 as a result of dam body washaway of Kokpekty reservoir about 100 houses (out of 810) have been flooded in Kokpekty settlement at the height of 1.5 – 1.8 meters", - reads the message.
The agency informed that as of 2:45am the water level in the settlement started to fall down.
"During rescue operations 125 people in Kokpekty settlement were rescued and bodies of four victims were found", - reads the message of the Ministry of Emergency Situations.
March 31 2014, 10:08