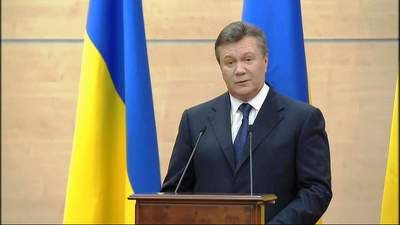 Every region of Ukraine should hold a vote to decide whether to break away, according to the country's ousted president, lbc.co.uk reports.
Viktor Yanukovych said: "As president who is with you in thought and soul, I ask every single sensible citizen of Ukraine not to let yourselves be used by the imposters.
"Demand a referendum on determining the status of every region in Ukraine," he added in a statement quoted by Russia's ITAR-TASS news agency.
The region of Crimea voted to become part of Russia in a hastily-arranged vote earlier this month that has been condemned as a breach of international law - a charge Moscow rejects.
Pro-Russian forces began moving into the territory soon after Mr Yanukovych was removed from office in February.
The crisis was sparked by his decision to spurn a European Union trade deal in favour of closer ties with Russia, a move that led to months of mass protests.
Russia was accused of invading Crimea in the aftermath of Mr Yanukovych's removal, but President Vladimir Putin called the soldiers who took over Ukrainian bases there "self-defence forces".
Mr Yanukovych fled to Russia and is reportedly now living in a country house outside Moscow.
He has made two public appearances since then, in the southern city of Rostov-on-Don.
This latest pronouncement is Mr Yanukovych's first in more than two weeks, and the first since the Crimea vote.
He added he would not recognise a presidential election planned for May 25 and called instead for nationwide referendums.
"Only a nationwide referendum, and not snap polls, can to a large extent stabilise the political situation and preserve the sovereignty and integrity of Ukraine."
Mr Yanukovych's Party of Regions is due to hold a meeting to discuss its future strategy this weekend ahead of the poll, which it intends to take part in.
Ahead of the meeting, Mr Yanukovych asked to be removed from the party and stripped of his duties as honorary chairman.
March 28 2014, 16:11