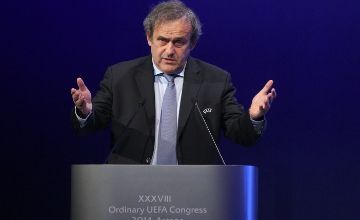 UEFA President Michel Platini. Credit:inform.kz.XXXVIII UEFA Congress in Astana has taken a historic decision on holding a new tournament - UEFA League of Nations, inform.kz reports.
Fifty four national associations of the UEFA have unanimously adopted "Resolution on Category A tournaments for men's teams in 2018-2022", according to which beginning from 2018 a new tournament called the UEFA League of Nations to be carried out.

It is noted that the UEFA League of Nations will act on class increase / decrease principles. The winner will be determined in each odd-numbered year. The tournament will replace the majority of international friendlies.
League of Nations will be linked to EURO qualifications. The exact format of the League of Nations has not been determined yet, so it will be discussed by national associations of the UEFA.
March 27 2014, 16:30