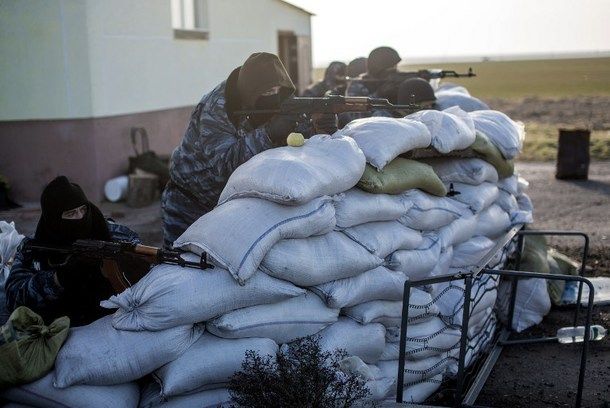 Armed pro-Russian servicemen stand guard at Chongar checkpoint blocking the entrance to Crimea on March 10, 2014Ukrainian experts have downplayed talk that Russian war planners evaded detection from America's much-vaunted eavesdropping technologies because they were coached by Edward Snowden, the former National Security Agency employee now living in exile in Russia for leaking information about top-secret American operations, kyivpost.com reports.
Without naming Snowden, a Wall Street Journal article stated that the U.S. intelligence community – namely the Central Intelligence Agency, NSA, Defense Intelligence Agency and National Geospatial-Intelligence Agency – was unable to pick up Russian digital and electronic communications leading up to the late February Russian invasion of Ukraine's Crimea.
Although there were vague warnings way back in December, and significant troop buildups on Russian soil close to Crimea on Feb. 26-27 based on satellite imagery, the American intelligence community "didn't pick up any telltale communications between either Russian leaders, commanders or even Russian soldiers on the ground," the Wall Street Journal wrote.
Once in Crimea, according to the news organization, Russian troops exercised exemplary "discipline in their radio and cellphone communications."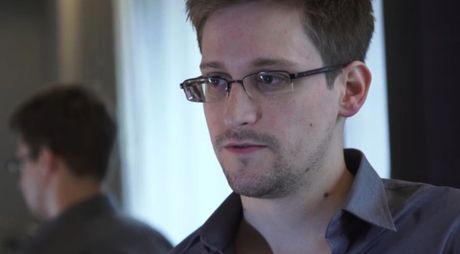 Edward SnowdenIn an earlier article, National Public Radio reported that U.S. President Barack Obama had on Feb. 26 been warned that there was a strong likelihood that Russian President Vladimir Putin would order troops into Crimea.
Citing an ABC television program, the Accuracy in Media Center for Investigative Journalism on March 24 wrote that "intelligence analysts were surprised because they hadn't intercepted" the the start date of the invasion.
Some Ukrainian defense experts disagree. They say the Russian occupation had been planned well in advance, limiting the need for on-the-ground communication just beforehand.
"It is obvious that the invasion was planned well in advance," said Oleksiy Melnyk, director of foreign relations and international security programs at Razumkov Center. "It is also clear that very few people were involved in the planning. Thus, it was unrealistic to unveil such intentions by technical means of intelligence no matter how sophisticated they are."
Valentyn Badrak of the Center for Army, Conversion and Disarmament Studies, told the Kyiv Post that "communication discipline" wasn't the reason for evading U.S. surveillance.
He said advance planning and the fact that "for the past four years (under ex-President Viktor Yanukovych) pro-Russians have led Ukraine's security service and the Defense Ministry" was what led to little communication being needed to invade.
Badrak doubted that Russia had improved much since 2008 when flaws in its military were exposed during its successful invasion of George's Ossetia and Abkhazia territories in 2008. Georgians were able to shoot down Russian warplanes and Russia even shot down its own jet.
Melnyk said there are "some similarities between Georgia-2008 and Crimea-2014. However, there is a very significant difference in Russian tactics like using paramilitary forces and regular military personnel in a 'very specific manner.'"
Russia's successful deceptiveness also could be attributed to America not devoting enough intelligence resources to Ukraine and Russia, said Badrak, noting that the U.S. has been preoccupied with Iran, Afghanistan and the broader Middle East.
The Wall Street Journal wrote that "to close the information gap, U.S. spy agencies and the military are rushing to expand satellite coverage and communications-interception efforts across Russia, Ukraine and the Baltic states (of Estonia, Latvia and Lithuania)."
Ukraine is still on edge as some "70,000 potential Russian occupiers" are staging on the eastern border, blogged Dmitry Tymchuk, head of the Center for Military and Political Research. He added that there are also 700 units of tanks and armored personnel carriers near the border, 240 units of war planes and helicopters, 150 units of artillery systems of various calibers, and 100 units of multiple rocket launcher systems.
There are furthermore, according to Tymchuk, some 700 commandos staged in Transnistria, a breakaway region of Moldova, and Russian troops continuing to conduct "military exercises" in Belarus, Ukraine's northwestern neighbor and fellow former Soviet republic.
NATO Secretary General Anders Rasmussen voiced concern on March 25 of the Russian military buildup. Ukraine had earlier asked NATO for military assistance, in addition to equipment such as, read-to-eat meals, fuel, and intelligence information. Moreover, U.S. President Barack Obama is considering a Ukrainian government request for significant military aid, including arms.
March 26 2014, 10:47